Posted on
Fri, Aug 13, 2010 : 2:50 p.m.
The gruesome is unveiled in new book 'Wicked Washtenaw County'
By Julia Eussen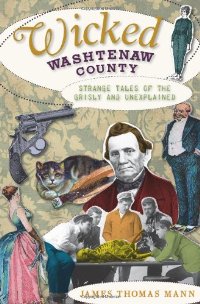 The newest book by local historian James Thomas Mann, published by The History Press.
It's Friday the 13th. Superstitions tell me not to travel (misfortune on the road) or change my bed sheets (bad dreams will haunt me). Movies tell me
not to be a summer camp counselor
. So, I'm safe if I stay home here in
Ann Arbor
and just lay low - right?
Wicked Washtenaw County tells me I am so wrong.
"Wicked Washtenaw County: Strange Tales of the Grisly and Unexplained," a new book by local author and AnnArbor.com community contributor James Thomas Mann covers incidents from the mid-1800s to the early 1900s. While the writing is awkward at times, it's fun to read about this underside of the region.
Mann provides details to murder between neighbors, murder born out of jealousy, and campus arson, among other crimes. These are some of the more grisly incidents.
There is also the grisly that stemmed from necessity. A lengthy and interesting piece on corpse gathering for students at the University of Michigan Medical School unveils the many aspects to this practice. Often grave robbers were hired, but, for example, Dr. Frothingham did the work himself. Furthermore, he wrote openly to the Regents about it and asked for a raise due to the risks and duress he subjected himself to. In addition, family members and law enforcement went to great lengths to both prevent a theft of someone newly deceased and locate those guilty of the crime.
In addition to reading about murder and unsolved mysteries, the pieces also tell the reader so much more about the life and times of the citizens of the county. The last article revolves around a small group of people in 1926. The crime (robberies), the hideout (barn), the hostages and accomplices (the Barlows), and the femme fatal (Irene, "the Bandit Queen") all seems straight out of a film. And it all seems to convey the 1920s - as if it simply couldn't have occurred any time prior.
These few notorious stories in the history of Wicked Washtenaw County remind me that I am as safe on Friday the 13th as any other day (for better or worse).
Julia Eussen received her B.A. in English from Kansas State University. She is currently a graduate student in Eastern Michigan University's Professional Writing Program. She is also an active member of the Ann Arbor Classics Book Group. She can be reached at jeussen at emich dot com.