Posted on
Mon, May 16, 2011 : 5:24 a.m.
Bruce Cockburn discusses new songs, politics ahead of sold-out Ark shows
By Kevin Ransom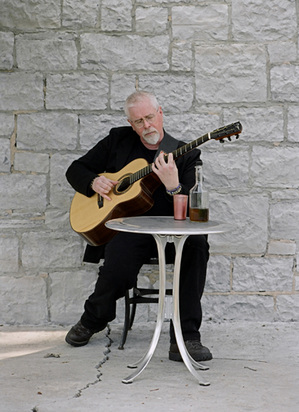 Bruce Cockburn
is a man of many talents — and passions. He's always been very politically conscious and has a long history of social activism, and his thoughts on social and political issues have consistently made their way into his songs.
He's also an extremely accomplished guitarist, so his albums and performances have also showcased his nimble, intricate guitar runs. He especially likes picking up an acoustic guitar and channeling his early country-blues influences — Mance Lipscomb, Mississippi John Hurt and Big Bill Broonzy.
Those elements, among others, are in abundance on his current release, "Small Source of Comfort," which is his first studio album in five years. (He released a double-live disc a couple of years ago.)
Five of the songs are the album are instrumentals, allowing Cockburn, a native Canadian, to showcase his fretboard and finger-picking dexterity. But they're not solo-guitar workouts. Instead, he and his bandmates attain intriguing synergies that in some cases draw on other styles, especially those tracks that involve an interplay between Cockburn's guitar and the violin of Jenny Scheinman, who's known for her work with Bill Frisell and Norah Jones, among others. Scheinman is part of Cockburn's touring trio, and she also serves as solo opening act for this week's shows.
PREVIEW
Bruce Cockburn
Who: Canadian folk-rock artist, accomplished guitarist and social activist. Composer, violinist, and singer-songwriter Jenny Scheinman opens..
What: For this tour, Cockburn fronts a trio that also includes a violinist and drummer.
Where: The Ark, 316 S. Main St., Ann Arbor.
When: Thursday and Friday, 8 p.m.
How much: SOLD OUT.
On some of those efforts, the result is something like chamber-folk-rock, with Scheinman delivering a mournful counterpoint to Cockburn's percussive guitar grooves. Elsewhere, "Bohemian 3-Step," is cinematic and atmospheric, but still rhythmic. On "Comets of Kandahar," meanwhile, they create something akin to gypsy-swing jazz, and "Lois on the Autobahn " — a tribute to Cockburn's mother, who died last August - is flowing and lyrical.
"After we recorded that one, it just sounded like it had to do with driving," says Cockburn, who comes to The Ark for a sold-out two-night stand, Thursday and Friday. "It had a 'cruising' quality about it, and my mom died between the time we recorded it and the time we titled it, and I wanted something on the record to be a tribute to her, so I came up with that title."
"Comets of Kandahar" was inspired by Cockburn's visit to that Afghan city as part of the volunteer work he does for humanitarian groups in war-ravaged countries. His brother, a doctor, has spent the last few years as a physician for the Canadian army. "He was stationed there, at an air base, and there were a lot of planes taking off and landing," says Cockburn by phone from a tour stop in Annapolis, Maryland.
"And the runway had to be dark, because it's a battle zone, so when the planes would take off, you could only see this incandescent flame coming out of the end — the most precious color of purple you can imagine. They looked like comets, hence the title."
Another new song inspired by his visit to the Middle East is "Each One Lost," which he wrote after witnessing a military ceremony honoring two young Canadian Forces soldiers — who had just been killed that day — before their coffins were flown back to Ontario. "There was a recording of bagpipes playing, and prayers were said - it was very somber and deeply moving, and it made me want to write again about the human cost of war." In the song, he sings, in his sonorous baritone, "Each one lost is everyone's loss, you see / Each one lost is a vital part of you and me."
Cockburn's instinct for political commentary takes a very different tone on "Call Me Rose" — a tune in which Cockburn imagines Richard Nixon reincarnated as a low-income single mother who lives in the projects.
"I woke up one morning, and that first line — 'My name is Richard Nixon, only now I'm a girl' — just came to me, and then the rest of the song came to me, almost all at once," says Cockburn with a laugh. "This was during that period of the Bush presidency when they had this campaign to rehabilitate Nixon's image, and there were these conservative pundits on TV trying to sell us this bulls---, and then after a while, it just stopped."
To Cockburn, the song is about redemption — Nixon gets a chance to redeem himself. But it's also "a commentary on power and the abuse of it, and about how it's important for those in power to remember who their choices affect, and for them to think for a while about what it might be like to be poor, and powerless."
In retrospect, from a progressive's point of view, Nixon doesn't look so bad compared to, say, Ronald Reagan — so why not a song about Reagan, as opposed to Nixon, coming back as a low-income single mom?
"I don't know," says Cockburn. "It was Nixon's name that came to me in that first line, and in the song. I didn't choose him — he chose me," he adds with a laugh.
When I interviewed Cockburn, it was the day after the Canadian election, when Canada's conservative prime minister Stephen Harper had won a Conservative majority of seats in the Parliament for the first time. In that election, the Liberal party did poorly. The upshot is that there will now be almost no resistance to the conservatives ramming their agenda through the Parliament. So, Cockburn was still lamenting the implications of those results.
"In Canada, the conservatives aren't as far right as they are in the U.S. — they're closer to the center, relatively speaking — but they're still the big-business party," says Cockburn. "They're very enamored by what the Republicans are doing in the States. Harper is totally in bed with big business, and wants to privatize everything, cut taxes on corporations, and they're going to try very hard to kill Canada's national health care system, even though it's a great system that works just fine.
"They for the privatization of all of these services, to benefit big business — and then just f--- everybody else. And they're doing it all under the pretext of trying to control the deficit, just like in the States. It's all just meaningless ideological baloney."
Kevin Ransom, a free-lance writer who covers music for AnnArbor.com, first interviewed Bruce Cockburn in 1991, for the Ann Arbor News. He can be reached at KevinRansom10@aol.com.