Posted on
Sat, Jan 28, 2012 : 6:08 a.m.
Burns Park Players giving 'Once Upon a Mattress' the royal treatment
By Jenn McKee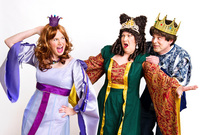 Photo by Myra Klarman
Fortunately, Queen Aggravain—one of the lead characters in the stage musical "Once Upon a Mattress," now being staged by the
Burns Park Players
—isn't in charge of choosing a director for BPP shows.
For if she was, she'd likely apply the method she uses to find a wife for her son, Prince Dauntless the Drab: that is, an unfair test that ensures that each applicant will fail.
No, finding a director for a BPP production is a much fairer, low-stress process. "In general, we keep our ears open about people around town that might work well with our group, and we often approach them in the spring," said "Mattress" co-producer Kathy Koehler.
Of course, BPP is anything but your typical community theater troupe. Made up of kids, parents, teachers, and neighbors primarily found in Ann Arbor's Burns Park neighborhood, BPP stages one big-cast musical each winter, with adults in the main roles; lots and lots of kids, of various ages, in supporting roles; and volunteers of all ages working behind the scenes.
For "Mattress," BPP approached theater veteran Ron Baumanis to direct.
"He was a great cheerleader for the show, and made us very aware of history of show," said Koehler. "He told us all about how ('Mattress') began as a parody at a summer camp, just for fun, and how the show was so good, and so much fun, that someone said, 'Let's perform it in New York.'
"He told us about how it was a loving, tongue-in-cheek parody of Broadway shows, … and the characters are these wonderful send-ups of classic fairy tale figures. So having this context for the show definitely helped us understand his vision for it."
PREVIEW
"Once Upon a Mattress"
Who: Burns Park Players.
What: Musical theater adaptation of Hans Christian Andersen's fairy tale, "The Princess and the Pea," with music by Mary Rodgers, lyrics by Marshall Barer, and book by Jay Thompson, Dean Fuller, and Barer.
Where: Tappan Middle School, 2251 E. Stadium Blvd.
When: Friday-Saturday, Feb. 3-4, and Thursday-Friday, Feb. 9-10, at 7:30 p.m.; and Saturday, Feb. 11 at 4 p.m.
How much: $15, available at the door, or in advance at Morgan and York, at 1928 Packard St, or by phone at 734-662-0798. Reserved patron seats, with valet parking, are also available for $30 by calling 734-478-0449 or e-mailing a request to colleenkollman@aol.com. (Tickets to the open dress rehearsal cost $5.)
Recently, Baumanis had to leave "Mattress" for personal reasons, and
Quinn Strassel
took the reins. Koehler had seen productions that Strassel had overseen at Community High School and "thought he might be somebody we could approach in the future," she said. "But when this situation arose, I asked him if there was any way he might step in and direct the show. And God bless him and his wife, because even though he has an 8 month old at home, and he'd have to take on 3 intensive weeks of rehearsals, he said 'yes,' and the transition has gone as smoothly as something like this could."
In many past years, Mike Mosallam - who moved to Los Angeles to work on the reality show, "American Muslim" - directed BPP shows, and recently, while Mosallam happened to be in town while the director transition was happening, he came to watch a rehearsal and lend a hand.
"He remains a huge supporter of ours," said Koehler. "He helped us clean up some numbers, and told us and reminded us that, yes, you guys can do all this."
The musical - with music by Mary Rodgers, lyrics by Marshall Barer and book by Jay Thompson, Dean Fuller, and Barer - opened off-Broadway in 1959; was based on Hans Christian Andersen's fairy tale, "The Princess and the Pea"; and is perhaps most famous for helping to launch the career of Carol Burnett, who originated the role of Princess Winnifred, one of Prince Dauntless' female suitors.
"It's one of those fun, over the top, fractured fairy tales," said Koehler. "There are great opportunities for character actors to go to town on these parts. And with this show, there's a little bit of something for everybody. Kids love the fairy tale aspect - that it's a fun retelling of 'The Princess and the Pea' - and that they get to dress up as little princesses and little knights. It's the most fun costume year ever for the kids. … And all the standard fairy tale tropes are there, in a tongue in cheek way, so it's clever and satisfying for the adults."
About 100 kids will be part of the show, and auditions happened in October, with music rehearsals getting underway in November. Some early staging work happened in December, but because of other demands on Tappan's performance space in the time leading up to the holidays, the hardest, most detail-oriented work of the show happens in January.
This year, because of the timing of the holidays, the schedule presented an extra challenge.
"Classes did not resume until January 9, so a lot of our people were out of town with their families until then," said Koehler. "It just feels like we're week short of where we usually are. But people have come in and put in the extra work necessary to do what's got to be done, because we have a really dedicated cast and production team."
Jenn McKee is the entertainment digital journalist for AnnArbor.com. Reach her at jennmckee@annarbor.com or 734-623-2546, and follow her on Twitter @jennmckee.