Posted on
Sat, Dec 18, 2010 : 5:06 a.m.
Exploring transgender identity in India with Fulbright artist Carrie Fonder
By Jennifer Eberbach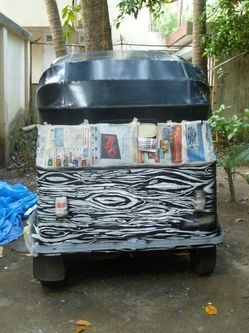 photo courtesy of Carrie Fonder
Note: This story has been updated with additional comments clarifying the artist's plan.
Local artist Carrie Fonder is currently in Mumbai, India on a Fulbright Scholarship to study the role of the feminine in Indian art. She is in the midst of creating an artwork out of a rickshaw, a small motorized taxi on three wheels, that comments on gender identity in India. Once the rickshaw sculpture — titled Trans-Co — is complete, she plans to exhibit it in India before shipping it to the United States.
Fonder and three other Fulbright Scholarship artists are planning a group exhibition for Spring 2011, SUPER/POWER: India through the Eyes of Four American Artists, which will feature Fonder's Trans-Co sculpture and other artworks that "challenge the perceived realities and ideals of present-day India from a Western perspective," according to the announcement.
Hijras, a social class that includes transgender women (who were born male), intersex individuals and people with a range of gender identities, has a very complicated role in Indian society," Fonder says. "They seem to be revered and reviled. It is considered auspicious to have hijras sing and dance at important life events, like births and weddings" — however, their role in the workforce and society is greatly limited, she explains. Many are forced to beg on the streets or work in the sex industry.
"Contemporarily NGOs have made some new roles for hijras, as they work in the offices supporting issues like health care for sexual minorities. Hijras often live as part of a household with a Guru being the head of the house. They will even go off and marry. Still, cultural acceptance varies wildly," Fonder has learned.
Fonder noticed a similarity between the way hijras "customize" their gender identity and the way some rickshaw drivers and truck drivers in India "customize" their autos with things like decorative signs, painted images and text on the back end (almost like bumper stickers), and mud flaps.
For her Trans-Co sculpture, Fonder is adding a number of customizations to a rickshaw that she purchased with money donated via the project's Kickstarter webpage.
Some aspects of the artwork will reference feminine beauty, like a portrait of a hijra she is airbrushing onto the side of the rickshaw. Several elements will reference the male body— including references to the phallus in the work, such as painted lotus blossoms "that are giving birth to phallus shaped parts on the vehicle," she explains.
"Metaphorically, my whole piece will be involved in a bit of gender play...the play between the physical and the represented is a reemerging thread in my work," Fonder says.
By referencing both genders, Fonder says her piece "will hint at the fact that hijras are functioning successfully outside a gender binary, through the use of traditionally feminine and masculine symbolism." Her take; "I come to this work from a point of view that I want to discredit the notion of a gender binary that is oppressive to everyone," she explains.
Overall, each element contained in the piece "will be dealt with in a way that things are 'presenting' as things other than what they began as. My metal will present as wood (she airbrushed the rickshaw to resemble wood). The duct-taped seat will be airbrushed to look like a cushiony upholstered seat with buttons. The interior will be airbrushed to appear more cushioned and welcoming," Fonder explains.
She hopes her "kitsch" sensibility and use of "gentle humor" in the piece "can nudge us towards greater empathy, understanding, and acceptance of those willing to take a risk and 'customize' their autos, their gender, their identities."
The piece will also include a few references to decorations Fonder has spotted on trucks and rickshaws during her time in India. A colorfully painted sign reading "Goods Carrier" will be displayed across the front of her rickshaw sculpture, which is inspired by a sign she saw on a highly decorated truck. The truck also had a series of chains dangling from its front bumper, which the artist plans to appropriate somewhere on the piece.
"I have also purchased a rickshaw outfit" to wear while making the sculpture, Fonder reports. "Initially my intent was simply to save my street clothes the abuse," however, "it may add up to become a performative element of the piece that could address the notion of gender performance (driving rickshaws is a male profession), as well as the impossibility of really immersing oneself in a culture. Metaphorically and culturally speaking, you can wear the clothes, but it is impossible to walk in their shoes."
Video about Carrie Fonder's project:
Although there are limits to how well an outsider can fully understand what it is like to be a transgender individual in India, Fonder is finding a lot of compassion for hijras through the process of creating her artwork. Recently, "I made some contacts with an NGO called Humsafar, which deals with rights for sexual minorities. Under their umbrella is a dance troupe called the "Dancing Queens." This is just one initiative for alternate work options for people in the Hijra community. We have just begun to talk about ways we can work together. Bare minimum, I want to produce prints of my work and donate the proceeds of their sale to the "Dancing Queens."
"I met a man on a train (in India) who wondered curiously why I darted after a couple of hijras to make a donation to them. I explained why, citing my project, and how it made me feel sad that they weren't able to get employment. The next time a group of hijras entered the train car, he too donated some money. Perhaps it was just done because of my presence, but I hope that the work itself and the conversations the work creates can help create more space for people to be themselves," Fonder says.
A resident of Ann Arbor, Fonder earned her MFA from Cranbrook Academy of Art in 2009. Her art frequently explores themes related to gender and sexuality. Find out more about the artist on her website.