Posted on
Sat, Mar 10, 2012 : 7:35 a.m.
Chicago Symphony Orchestra celebrates Brahms at sold-out Hill Auditorium
By Jennifer Eberbach
Classical music aficionados filled Hill Auditorium to the brim to see the world-class Chicago Symphony Orchestra on Friday night. The sold-out concert marked another chapter in the century-old love affair between the University Musical Society and the CSO: The first time the orchestra performed at a UMS show was in 1892, when both institutions were mere babes. UMS has brought them to town more than 200 times since.
This particular visit was all about Johannes Brahms. A pairing of two compositions, both in the key of D Major, constituted the program. As one would expect from such a high-caliber orchestra, both pieces were executed with the utmost professionalism and flair.
The packed house had the pleasure of witnessing illustrious conductor Riccardo Muti in his natural environment. Muti, who first conducted the CSO in 1973, was recently made the orchestra's music director. He formerly served as music director of Maggio Musicale Fiorentino, Philharmonia Orchestra of London, the Philadelphia Orchestra, and Teatro alla Scala a Milano, and he founded the Luigi Cherubini Youth Orchestra in his homeland of Italy. He has conducted famous orchestras all over the world, and he came to Hill Auditorium with the Vienna Philharmonic in 2006.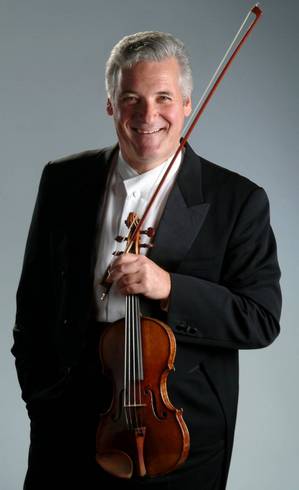 photo by Paul Labelle
The program began with the
Violin Concerto in D Major, Op. 77
, which Brahms composed in three movements for his best friend, violinist Joseph Joachim, in 1878.
Violinist Pinchas Zukerman
tackled the piece with gusto. Whether the passage was soft and restrained or dizzyingly vigorous, he was on top of it. It was easy to see his love for the Violin Concerto, which he said is one of his favorite pieces in a recent
interview with annarbor.com journalist Susan Isaacs Nisbett.
Also a conductor, Zukerman currently serves as music director of the National Arts Centre in Ottawa, Canada, and he is principal-guest conductor of the Royal Philharmonic Orchestra of London.
Symphony No. 2 in D Major, Op. 73 (1877) rounded out the program. Under Muti's guidance, the CSO musicians displayed amazing discipline. He took his players to all kinds of places, and they followed his guidance to a T. Conductor and orchestra were of one mind, and it shone through in their performance.
Audience member Joe Cohn of Rocky Hill, Connecticut heard about the concert while visiting his uncle in Ann Arbor. By the time he found out about it, the show had sold out. He crossed his fingers and ended up lucking out in the 'wait list' line. "When I heard about this, I had to try and get a seat. I love the Violin Concerto. Chicago Symphony is legendary. I had only seen them on TV before tonight," he said.
"During the concert, I was thinking about how this is music for the ages. It'll never grow old. One thing I like is that every time I hear it, there is always a different take. I heard things in it and balances in it that I had not heard before. These classics sound a little different every time."
UMS season ticket holder John Reed, from Ann Arbor, attended the concert with his daughter Sue Unger, of Pinckney. "I would not have missed this one. These two Brahms pieces are among the best of all the classics. It was a treat to hear these two war horses together in one program," says Reed, who played violin in Cornell University's Symphony and other orchestras in years past.
The father and daughter were highly impressed by Zukerman's ability to play such a long, complex violin piece from memory. "His fingers were flying and he didn't miss a note. He really gave his instrument a work out. I couldn't believe his memory—to remember all of that is just incredible," Unger says.
"Although I believe in the importance of having a lot of new music played in concert, and we have a lot of it here, on occasion it's nice to hear old chestnuts," Reed says. "Nothing equals one of these fabulous, world-class orchestras. It's delightful to hear something that is familiar one more time."