Posted on
Sat, Mar 3, 2012 : 11:35 a.m.
Chicago Symphony, Pinchas Zukerman returning to Hill Auditorium with Brahms on the bill
By Susan Isaacs Nisbett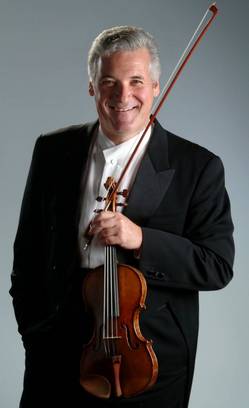 photo by Paul Labelle
March is a fickle month, but it seems safe to predict sunny skies—musically, at least—when the
Chicago Symphony Orchestra
returns to Ann Arbor's Hill Auditorium Friday for an all-Brahms program that features the composer's second symphony and the violin concerto.
The Chicago's new music director, Riccardo Muti, will be on the podium, making his first appearance here with the CSO since he took over in September 2010.
Celebrated virtuoso Pinchas Zukerman, a frequent visitor to Ann Arbor over the last 30 years, will wield the bow. And Brahms—a cheerful, optimistic Brahms—will be on the music desks of the CSO's extraordinary musicians. The CSO, for the record, marks its 203rd Ann Arbor appearance Friday. The orchestra first played here in 1892.
Violinist Zukerman has probably played the Brahms concerto more times than the CSO has played Ann Arbor. He considers the concerto, written a year after the second symphony and set in the same key, D Major, to be one of the great violin concertos in the repertoire.
"The Brahms is one of those unique violin concertos," he said in a recent phone call from New York. "We have a whole bunch of them, but if we're honest with ourselves, there are maybe 7 or 8 great ones because of the way they're written for the violin, the orchestration and the actual content."
How many times has he essayed it in his career of more than 40 years?
"There's probably been one good one and 250 bad ones," he joked. "But it's occasions I remember rather than actual performances."
PREVIEW
Chicago Symphony Orchestra
Who: Longtime leading American ensemble, with Riccardo Muti, conductor; Pinchas Zukerman, violin.
What: Brahms Violin Concerto and Symphony No. 2.
Where: Hill Auditorium, 825 N. University Ave.
When: Friday, 8 p.m.
How much: $10-$120. Tickets available from the UMS Michigan League Ticket Office, 734-764-2538, and online at ums.org.
All kidding aside, Zukerman is a stickler for standards. There's no sloughing off for him.
"I personally work every day on fundamentals, on technique, on producing a better sound," he said. "I study scores non-stop. I'm known as 'the music man." That's what I do, what I've wanted to do all my life, and I still want to use my ears, my eyes, and my fingers to do it better and better and better. I try to keep my standards of what I feel is correct in music making."
Zukerman has many outlets as a music man: he's a virtuoso on both violin and viola; he conducts; and he teaches. Educating the next generation of musicians is vitally important to him, and his devotion to teaching has resulted in innovative programs in London, New York, China, Israel and Ottawa.
"I was very, very fortunate to have mentors and teachers who were also my friends," he said. "I want to make sure the tradition continues."