Posted on
Thu, Feb 2, 2012 : 5:56 a.m.
'Big Miracle,' 'Skin I Live In,' midnight 'Big Lebowski,' and more at the movies this week
By Russ Collins
Win free movie tickets

Editor's note: Comment on today's "Cinema Chat" for a chance to win free movie tickets to the Michigan Theater. Some time between now and 9 a.m. Monday, leave a comment on this column, written by the Michigan Theater's Russ Collins. Offer your opinion on a recent movie you've seen, or on anything Russ mentions. A winner will be randomly selected, and we'll notify that person via the email address they signed up with. They will get two passes to a movie of their choice, courtesy of The Michigan Theater. Full rules here.

Opening downtown

In "The Skin I Live In," Dr. Robert Ledgard (Antonio Banderas), an eminent plastic surgeon, has been interested in creating a new skin with which he could have saved the life of his wife who was burned in a car crash. After 12 years, he manages to cultivate a skin that is a real shield against every assault. In addition to years of study and experimentation, he needs three more things: no scruples, an accomplice and a human guinea pig. Scruples were never a problem. Marilia, the woman who looked after him from the day he was born, is his most faithful accomplice. And as for the human guinea pig? A mysterious and volatile woman who holds the key to his obsession. Mick LaSalle of the San Francisco Chronicle says, "'The Skin I Live In' is like a David Cronenberg horror film as made by a director who doesn't fear the body but revels in it, who is too sensual and amoral by nature to find anything truly disgusting or foreign." "The Skin I Live In" opens Sunday, Feb. 5 at the Michigan Theater.

Opening at area multiplexes

"The Woman In Black" follows a young lawyer, Arthur Kipps (Daniel Radcliffe), who is ordered to travel to a remote village and sort out a recently deceased client's papers. As he works alone in the client's isolated house, Kipps begins to uncover tragic secrets, his unease growing when he glimpses a mysterious woman dressed only in black. Receiving only silence from the locals, Kipps is forced to uncover the true identity of the woman in black on his own, leading to a desperate race against time when he discovers her true intent. "The Woman In Black" opens Friday.

In "Chronicle," three high school students make an incredible discovery, leading to them developing uncanny powers beyond their understanding. As they learn to control their abilities, and use them to their advantage, their lives start to spin out of control, and their darker sides begin to take over. "Chronicle," a found-footage take on the superhero mythos, opens Friday.

"Big Miracle" is inspired by the true story that captured the hearts of people across the world. The film tells the remarkable tale of a small-town news reporter (John Krasinski) and a Greenpeace volunteer (Drew Barrymore) who are joined by rival world superpowers to save a family of majestic gray whales trapped by rapidly forming ice in the Arctic Circle. "Big Miracle" opens Friday.

Martin Bandyke's Moving Pictures film series

Martin Bandyke's Moving Pictures is a 13-week film series that will run Monday nights from Feb. 6 through April 30, in conjunction with the start of Ann Arbor's 107one radio host Martin Bandyke's celebration of his 30th year in radio. The series will run a selection of music-oriented films, including everything from classics ("Gimme Shelter," "Monterey Pop," "Don't Look Back") to newer films receiving their Ann Arbor premiere ("Joy Division," "Blank City"). The series opens Monday with "The Anatomy Of Vince Guaraldi," about the jazz musician best known for his scores for the "Charlie Brown" TV special from the 1960s and 70s. The film plays Feb. 6 at 7 p.m. at the Michigan Theater. Look for Martin's full article about the series in Sunday's AnnArbor.com.

Special screenings

The Nam Center for Korean Studies continues its Cinematic City: Seoul series with "No Regret." While this isn't the first gay-themed film produced in Korea, it is by far the most successful, and it ignited years of public discourse on homosexuality in the peninsula. This film marks the impressive directorial debut by Leesong Hee-il, who provides insight into a gay subculture that most heterosexual directors would have a difficult time conveying. Film critic Adam Hartzel writes: "One of the best aspects of this film is how we aren't provided the obligatory caricatures of gay 'types' on prime-time sitcoms in the United States... Refusing to follow the path towards Queer liberation espoused by sitcoms, ('No Regret') is freed to provide some refreshingly, rip-roaring hilarious moments." "No Regret" plays Saturday, Feb. 4, 2 p..m at the Michigan Theater. Admission is free.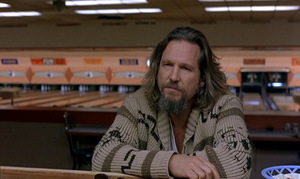 "The Big Lebowski"
plays like a Raymond Chandler-esque comedy crime caper from the brilliant filmmaking brothers
Joel and Ethan Coen
. The film pivots around a case of mistaken identity complicated by extortion, double-crosses, deception, embezzlement, sex, pot, and gallons of White Russians (made with fresh cream, please) and features
Jeff Bridges
as "The Dude." "The Big Lebowski" plays Friday and Saturday, Feb. 3 and 4, at 11:59 p.m. at the State Theatre.
The Michigan Theater's Family Friendly Film Series continues with
"Curious George!"
When The Man in the Yellow Hat befriends Curious George in the jungle, they set off on a non-stop, fun-filled journey through the wonders of the big city toward the warmth of true friendship. Featuring the voice talents of
Will Ferrell
,
Drew Barrymore
and an all-star cast. "Curious George" plays Feb. 5 at 1:30 p.m., and kids 12 and under are admitted free.
Russ Collins is executive director of the Michigan Theater in Ann Arbor. Tune in to the audio version of "Cinema Chat" on WEMU radio (89.1-FM) each Thursday at 7:40 a.m. and 5:40 p.m., or listen to it online at WEMU's web site.