Posted on
Thu, Jan 12, 2012 : 5:58 a.m.
Acclaimed 'Carnage,' 'Joyful Noise,' midnight 'Roger Rabbit,' and more at the movies this week
By Russ Collins
Win free movie tickets

Editor's note: Comment on today's "Cinema Chat" for a chance to win free movie tickets to the Michigan Theater. Some time between now and 9 a.m. Monday, leave a comment on this column, written by the Michigan Theater's Russ Collins. Offer your opinion on a recent movie you've seen, or on anything Russ mentions. A winner will be randomly selected, and we'll notify that person via the email address they signed up with. They will get two passes to a movie of their choice, courtesy of The Michigan Theater. Full rules here.

Opening downtown
"Carnage"—director Roman Polanski's take on the Tony Award-winning play "God of Carnage" by Yasmina Reza, now being staged at Performance Network—is a razor-sharp comedy centered on parental differences. After a playground fight, the victim's parents invite the bully's parents over to work out their issues. A polite discussion of child rearing soon escalates into verbal warfare, with the parents revealing their true colors. The film stars Kate Winslet, Jodie Foster, Christoph Waltz and John C. Reilly. Mark Kennedy of the Associated Press says, "A nasty spat between two couples over the course of an evening may not sound like a fun flick, but like any act of carnage, it's hard to turn away." "Carnage" opens Friday at the State Theatre.
Playing at the cineplex
"Beauty and the Beast 3D" captures the fantastic journey of Belle (voice of Paige O'Hara), a bright and beautiful young woman who's taken prisoner by a hideous beast (voice of Robby Benson) in his castle. Charles Solomon of the Los Angeles Times says, "It's a pleasure to see "Beauty and the Beast" again in a theater with an audience that laughs and cries, but most of those pleasures would be just as evident in a conventional presentation." "Beauty and the Beast 3D" opens Friday.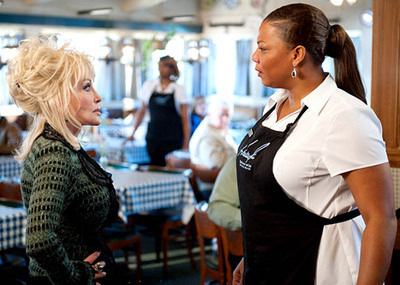 In
"Joyful Noise,"
the small town of Pacashau, Georgia, has fallen on hard times, but the people are counting on the Divinity Church Choir to lift their spirits by winning the National Joyful Noise Competition. The choir has always known how to sing in harmony, but the discord between its two leading ladies now threatens to tear them apart. Their newly appointed director, Vi Rose Hill (
Queen Latifah
), stubbornly wants to stick with their tried-and-true traditional style, while the fiery G.G. Sparrow (
Dolly Parton
) thinks tried-and-true translates to tired-and-old. Shaking things up even more is the arrival of G.G.'s rebellious grandson, Randy (
Jeremy Jordan
). Randy has an ear for music, but he also has an eye for Vi Rose's beautiful and talented daughter, Olivia (
Keke Palmer
), and the sparks between the two teenagers are causing even more heat. "Joyful Noise" opens Friday.
"Contraband" stars Mark Wahlberg as Chris Farraday, a man who long ago abandoned his life of crime, but after his brother-in-law, Andy (Caleb Landry Jones), botches a drug deal for his ruthless boss, Tim Briggs (Giovanni Ribisi), Chris is forced back into doing what he does best—running contraband—to settle Andy's debt. Chris is a legendary smuggler and quickly assembles a crew with the help of his best friend, Sebastian (Ben Foster), for one final run to Panama and back, hoping to return with millions in counterfeit bills. "Contraband" opens Friday.
Special screenings
The dystopic science-fiction epic "World on a Wire" is German auteur Rainer Werner Fassbinder's gloriously fractured, boundlessly inventive take on future paranoia. With dashes of Kubrick, Vonnegut, and Jean Luc Godard's 1954 Sci-Fi classic "Alphaville: A Strange Adventure of Lemmy Caution," Fassbinder tells the story of reluctant hero Fred Stiller (Klaus Lowitsch), a cybernetics engineer who uncovers a massive corporate and governmental conspiracy. At risk? Our entire (virtual) reality as we know it. Based on the novel "Simulacron-3" by Daniel F. Galouye, the film was shot in 16mm over the course of 6 weeks in Paris and originally aired in 1973, as a two-part miniseries on German Television. Unavailable in America until 2011, the film is presented in a new 35mm print from Janus Films, with the restoration overseen by director of photography Michael Ballhaus. Dennis Lim of The New York Times says, "A textbook example of a film that was ahead of its time … a movie that anticipates 'Blade Runner' in its meditation on artificial and human intelligence and 'The Matrix' in its conception of reality as a computer-generated illusion." "World on a Wire" screens on Saturday, Jan. 14 at the Michigan Theater at 10 p.m.

In "Who Framed Roger Rabbit?" cartoon star Roger Rabbit is worried that his wife Jessica might be playing pattycake with someone else, so the studio hires detective Eddie Valiant to snoop on her. But the stakes are quickly raised when Marvin Acme is found dead and Roger is the prime suspect. Featuring groundbreaking interaction between the live and animated characters, and lots of references to classic animation, "Who Framed Roger Rabbit" plays the State on Saturday, Jan. 14 at 11:59 p.m.

"Beyond the Bricks" is a media project and national community engagement campaign that seeks to promote solutions for one of America's critical problems in education: the consistently low performance and graduation rates of school-age Black males. The film follows African-American students Shaquille Ingram and Erick Graham as they struggle to stay on the track in the Newark, NJ public school system. Weaved into the boys' stories is commentary from some of the country's foremost leaders, experts and scholars focused on black boys and their education including Newark Mayor Cory Booker, the Rev. Al Sharpton, Schott Foundation President John Jackson, Pedro Noguera, Ivory Toldson, and others. "Beyond the Bricks" plays Monday, Jan. 16 at 2 p.m.

See you at the movies!

Russ Collins is executive director of the Michigan Theater in Ann Arbor. Tune in to the audio version of "Cinema Chat" on WEMU radio (89.1-FM) each Thursday at 7:40 a.m. and 5:40 p.m., or listen to it online at WEMU's web site.