Posted on
Thu, Mar 22, 2012 : 5:53 a.m.
Ann Arbor Film Festival, 'Hunger Games,' Bob Dylan documentary, and more at the movies this week
By Russ Collins
Win free movie tickets

Editor's note: Comment on today's "Cinema Chat" for a chance to win free movie tickets to the Michigan Theater. Some time between now and 9 a.m. Monday, leave a comment on this column, written by the Michigan Theater's Russ Collins. Offer your opinion on a recent movie you've seen, or on anything Russ mentions. A winner will be randomly selected, and we'll notify that person via the email address they signed up with. They will get two passes to a movie of their choice, courtesy of The Michigan Theater. Full rules here.

Happy 50th Ann Arbor Film Festival!
Founded in 1963, the Ann Arbor Film Festival started as an alternative forum for filmmakers and artists to share their work. Fifty years later, the festival continues its focus on the art of film, serving as one of the country's premier festivals for bold, visionary and experimental filmmakers.
Tuesday, March 27 to Sunday, April 1, The Ann Arbor Film Festival will present more than 250 films, videos, installations and multimedia performances with 30 North American or world premieres. The primary venue of the Ann Arbor Film Festival is the historic Michigan Theater, although additional events will take place at the State Theatre, the University of Michigan Museum of Art, and other locations. Go to www.aafilmfest.org for complete details.
Come opening night, Tuesday, March 27 at 8:15 p.m., to get a "user friendly" glimpse at the variety of film styles and types that will be screened during the festival. If you're looking for one film to see, check out "Two Years at Sea" playing Sunday April 1 at 3 p.m. at the Michigan Theater. Director Ben Rivers has crafted a nearly wordless portrait of a man, Jake, who lives alone near Aberdeenshire, Scotland. Jake is seen in all seasons, surviving frugally, passing the time with strange projects, living the radical dream he had as a younger man, a dream he spent two years working at sea to realize. The film played in the Orizzonti section at the 68th Venice International Film Festival, where it won the International Critics' Prize (FIPRESCI Prize) for the Best Foreign Language Film of the Year.
Special screenings downtown
Martin Bandyke's Moving Pictures Film Series continues with "Don't Look Back." In 1965, Bob Dylan, 23, a pixyish troubadour, spends three weeks in England. Joan Baez and Donovan, among others, are on hand. From the opening sequence of Dylan holding up words to the soundtrack's "Subterranean Homesick Blues," Dylan is at his playful and enigmatic best. "Don't Look Back" plays March 26 at 7 p.m. at the Michigan Theater.
Continuing downtown
"In The Land Of Blood And Honey," directed by Angelia Jolie, is set against the backdrop of the Bosnian War that tore the Balkan region apart in the 1990s. It tells the story of Danijel and Ajla, two people from different sides of a brutal ethnic conflict. "In The Land Of Blood And Honey" continues at the Michigan Theater.
"A Separation" was the winner for Best Foreign Language Film at this year's Academy Awards. It tells a family story of Simin, who wants to leave Iran with her husband, Nader, and daughter, Termeh. Simin sues for divorce when Nader refuses to leave behind his Alzheimer's-suffering father. When Nader discovers that the caretaker he hired to care for his father has been lying to him, he realizes that there is more on the line than just his marriage. "A Separation" continues at the Michigan Theater.
"Jeff, Who Lives At Home" stars Jason Segel as Jeff, who on his way to the store to buy wood glue, looks for signs from the universe to determine his path. However, a series of comedic and unexpected events leads him to cross paths with his family (Ed Helms and Susan Sarandon) in the strangest of locations and circumstances. Jeff just may find the meaning of his life... and if he's lucky, pick up the wood glue as well. Directed by the Duplass brothers ("Cyrus"), "Jeff, Who Lives At Home" continues at the State Theatre.
"The Artist," the Oscar winning Best Picture, will close soon. See it at the State Theatre before it leaves!
Opening at the cineplex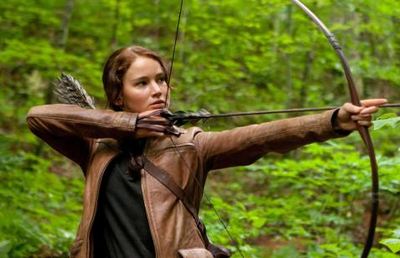 Lionsgatte
"The Hunger Games"
is based on the young-adult novel written by
Suzanne Collins
. Gladiator style games take place every year in the nation of Panem, a county in the future located in what was once known as North America. Each of the country's 12 districts sends a teenage boy and girl to compete in the Hunger Games, a twisted punishment for a past uprising and an ongoing government intimidation tactic. These games are a hugely popular nationally televised event in which "Tributes" must fight with one another until one survivor remains. Pitted against highly-trained Tributes who have prepared for these games their entire lives, Katniss (
Jennifer Lawrence
) is forced to rely upon her sharp instincts as well as the mentorship of drunken former victor Haymitch Abernathy (
Woody Harrelson
). If she's ever to return home to District 12, Katniss must make impossible choices in the arena that weigh survival against humanity and life against love. Peter Howell of the Toronto Star says the film "arrives in theatres ... not only intact, but in command of the essentials of storytelling and characterization. The film deserves the massive success it will surely enjoy." "The Hunger Games" opens Friday.
See you at the movies!
Russ Collins is executive director of the Michigan Theater in Ann Arbor. Tune in to the audio version of "Cinema Chat" on WEMU radio (89.1-FM) each Thursday at 7:40 a.m. and 5:40 p.m., or listen to it online at WEMU's web site.