Posted on
Thu, Mar 8, 2012 : 5:52 a.m.
'John Carter,' animated Oscar nominee, midnight 'The Room,' and more at the movies this week
By Russ Collins
Win free movie tickets

Editor's note: Comment on today's "Cinema Chat" for a chance to win free movie tickets to the Michigan Theater. Some time between now and 9 a.m. Monday, leave a comment on this column, written by the Michigan Theater's Russ Collins. Offer your opinion on a recent movie you've seen, or on anything Russ mentions. A winner will be randomly selected, and we'll notify that person via the email address they signed up with. They will get two passes to a movie of their choice, courtesy of The Michigan Theater. Full rules here.

Opening downtown

"Chico & Rita," the 2012 Oscar-Nominated Best Animated Film from director Fernando Trueba and artist Javier Mariscal, celebrates 1940s Cuban music. Chico is a young piano player with big dreams. Rita is a beautiful singer with an extraordinary voice. Music and romantic desire unites them, but their journey—in the tradition of the Latin ballad, the bolero—brings heartache and torment. From Havana to New York, Paris, Hollywood and Las Vegas, two passionate individuals battle impossible odds to unite in music and love. A.O. Scott of the New York Times says, "Sexy, sweet and laced with a sadness at once specific to its place and time and accessible to anyone with a breakable heart, 'Chico & Rita' is an animated valentine to Cuba and its music." "Chico & Rita" opens Sunday, March 11, at the Michigan Theater.

Don't miss the Oscar-winning "The Artist," currently playing at the State Theatre, and "A Separation," playing at the Michigan Theater. Both of these award-winning films will leave town soon, so see them this week, before they disappear. "Shame," starring Michael Fassbender and Carey Mulligan, the controversial and highly acclaimed film playing at the State, will also soon exit our fair city.

Opening at the multiplex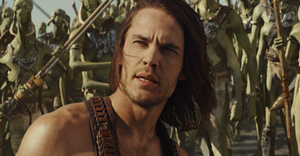 "John Carter,"
from filmmaker
Andrew Stanton
(Pixar's "WALL-E"), is based on a classic novel by Edgar Rice Burroughs, whose highly imaginative adventures served as inspiration for many filmmakers, both past and present. The film tells the story of war-weary former military captain John Carter (
Taylor Kitsch
), who is inexplicably transported to Mars, where he becomes reluctantly embroiled in a conflict of epic proportions amongst the inhabitants of the planet, including Tars Tarkas (
Willem Dafoe
) and the captivating Princess Dejah Thoris (
Lynn Collins
). "John Carter" opens Friday.
"Silent House"
is a uniquely unsettling horror thriller starring
Elizabeth Olsen
as Sarah, a young woman who finds herself sealed inside her family's secluded lake house. With no contact to the outside world, and no way out, panic turns to terror as events become increasingly ominous in and around the house. "Silent House" opens Friday.
In
"A Thousand Words,"
Eddie Murphy
stars as Jack McCall, a fast-talking literary agent, who can close any deal, any time, any way. He has set his sights on New Age guru Dr. Sinja (
Cliff Curtis
) for his own selfish purposes. But Dr. Sinja is on to him, and Jack's life comes unglued after a magical Bodhi tree mysteriously appears in his backyard. With every word Jack speaks, a leaf falls from the tree and he realizes that when the last leaf falls, both he and the tree are toast. "A Thousand Words" opens Friday.
Special screenings
The University of Michigan Department of Philosophy presents
"Memento,"
director
Christopher Nolan
's look at a man, suffering from memory loss, who uses notes and tattoos to hunt for the man he thinks killed his wife. "Memento" plays tonight at 8 p.m. at the Michigan Theater.
"American Meat"
makes its Michigan debut on Saturday, March 10, at the Michigan Theater in Ann Arbor. The film, an official selection of Food Day 2011, explains our current industrial meat system, and shows the feedlots and confinement operations, not through hidden cameras but through the eyes of the farmers who live and work there. The story shifts to Polyface Farms, where grass-based farmer
Joel Salatin
is leading the burgeoning local-food movement of farmers, food advocates, chefs and everyday folks who promise to change the way meat reaches the American table. Following the film, there will be a panel discussion with local farmers, food advocates, environmentalists and
Graham Meriwether
, the director of "American Meat," who grew up in Ann Arbor. For more about the movie,
see this interview with the filmmaker
. "American Meat" plays Saturday, March 10 at 8 p.m. at the Michigan Theater.
"The Room"
returns to the State Theater! Uninhibited by cinematic convention, this quirky cult favorite about lust and duplicity delivers nonstop laughs." "The Room" plays Saturday, March 10 at 11:59 p.m. at the State Theatre.
The U-M Depression Center presents
"Boy Interrupted,"
the heartbreaking story of Evan Perry, a 15-year-old boy who took his own life after a lifelong struggle with bipolar disorder. Illustrating how one family deals with loss and grief, this moving film confronts the stigma associated with mental illness and suicide among children. "Boy Interrupted" plays Sunday, March 11 at 7 p.m. at the Michigan Theater and will be followed with a panel discussion on bipolar disorder.
Martin Bandyke's Moving Pictures Film Series continues with
"Who Is Harry Nilsson (And Why Is Everybody Talkin' About Him)?"
The film includes new and archive audio and film including interviews with Robin Williams, Yoko Ono, Van Dyke Parks, Randy Newman, Ray Cooper, the Smothers Brothers, and Micky Dolenz. "Who Is Harry Nilsson (And Why Is Everybody Talkin' About Him)?" plays Monday, March 12 at 7 p.m. at the Michigan Theater.
See you at the movies!
Russ Collins is executive director of the Michigan Theater in Ann Arbor. Tune in to the audio version of "Cinema Chat" on WEMU radio (89.1-FM) each Thursday at 7:40 a.m. and 5:40 p.m., or listen to it online at WEMU's web site.