Posted on
Thu, Sep 5, 2013 : 5:30 a.m.
Colin Hay brings well-crafted roots-pop to the Power Center Friday
By Kevin Ransom
Over the course of Colin Hay's 32-year recording career, he's climbed some very high peaks and endured some very low valleys. But for the last 20 or so of those years, he's been quite content making the kind of music he wants to make, for a loyal audience that admires not only his talent, but his resilience.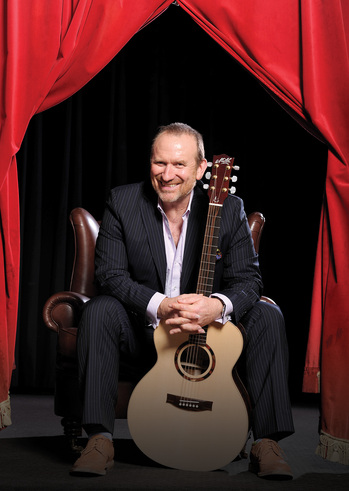 Courtesy photo
In the early-to-mid-1980s, Hay was the lead singer, rhythm guitarist and main songwriter for the hugely popular Australian band
Men at Work
, who had inescapable hit singles with songs like "Down Under," "Who Can It Be Now?" and "Overkill."
Men At Work only lasted a few years, though. Due to internal conflicts - and, perhaps, over-exposure -- the group split up in 1985. Hay began a solo career in the late '80s, and he's now released 11 solo albums of smart, tasteful, melodic, well-crafted roots-pop that has won him a devoted cult following.
And that following has grown in recent years. The last three times he's played Ann Arbor, he did two-night stands at The Ark, which seats 400. In 2011 and 2012, both nights sold out. And when he comes to town on Friday, he'll play at the Power Center, which seats more than 1,300. (He also emceed the Ann Arbor Folk Festival in January.)
Hay's latest album of new material, the stellar "Gathering Mercury," was released in 2011. Last year, he issued an EP with three different versions of "Down Under." One was a full-band studio re-recording of the song, the second was a solo-acoustic studio version and the third was an extended solo-acoustic live performance that included Hay's long, funny story about how he came to write the song. Hay's comical stories are a staple of his live shows.
In fact, the full-band version was chosen by Telstra, an Australian network provider, to be the theme song for their Olympic games-themed ad campaign in Australia. The TV spots featured Hay singing the song with groups of various sizes, ranging from people on the street to a children's chorus to a football stadium with 60,000 people.
PREVIEW
Colin Hay
Who: Former singer, guitarist and main songwriter for Men At Work who has released 11 albums since he began his solo career in the late 1980s.
What: A melodic, tastefully-crafted mix of folk, rock, roots-pop and reggae.
Where: Power Center, 121 Fletcher Street.
When: Friday, 8 p.m.
How much: $27, $50. Tickets available from Michigan Union Ticket Office, 530 S. State St.; by phone at 734-763-8587, or online.
Hay liked that the campaign drew attention to his current solo work, and to his recent albums, but he's not remotely aggrieved by the fact that that he once played to festival crowds of 100,000 and is now playing clubs and smaller theaters with seating capacities of 400 to 1,500. That's because, for Hay, the music itself is still his primary focus, which he says has been the case ever since he was playing tiny clubs in Melbourne, with just an acoustic guitar, in the 1970s.
"It was great that Men At Work were so popular, but that didn't last too long, so that period almost seems like it was a punctuation mark in my music career," says Hay. "I've released many records and written a lot of songs since then, and I think my writing, and my albums, have continued to improve.
"When I'm writing or recording, I don't really think about whether a song will get on the radio or become commercially successful. My solo career started slow, playing to very small audiences, but I slowly built up an audience that liked what I was doing, and they've been loyal and continue to come to my shows."
Hay has written and demoed a number of new songs over the last year or so, but he's not yet sure how he's going to release them, or how the final versions will sound.
"At the moment, they're mostly solo-acoustic," he says. "Since I mostly perform with just an acoustic guitar, I tend to initially record new songs like that. Some of them may stay that way, and on some, I might decide to add bass and drums and electric guitar, so they could become louder rock 'n' roll songs," says Hay during a recent phone interview from Los Angeles, where he's lived since 1989.
"Playing alone, with just an acoustic guitar, is my natural game - that's how I started. I usually record songs soon after I write them. -- I just get great pleasure from writing new songs, getting them on tape, and then playing them live. Over the last couple of weeks, I've recorded a few more with a friend, Michael Georgiades, who is a beautiful guitar player, and we've been getting some cool interplay between us."
Given the state of the record industry, Hay hasn't decided what format he will settle on when he's ready to release the songs: "I could release another album, or, maybe go another way, like releasing one song at a time online, over a period of several months. I'm still thinking that over."
The stories that Hay tells onstage are just as important to his live shows as his songs are. His amusing, sometimes-hilarious anecdotes are typically self-deprecating. So, did Hay "study" comic storytelling, or comedy writing, or is he just naturally funny?
"I do like great comedians, and have paid attention to how they tell stories, but it's mostly a natural thing," he says. "My father was funny - a charming man with a gift for making others laugh. My mother was also funny. From the time I was very young, we'd always tell stories and make each other laugh."
The first stories he told onstage, when he began his solo career, were baleful but deadpan-funny tales about how he went from playing to stadiums to playing to 20 people, and that topic remains a staple.
"Yeah, that's an obvious one, given the path my career took, and it's a good one, and when I first began telling stories about that, I was telling them as they were happening in my life," says Hay.
"That's a connection we all have - most people have large peaks and valleys in their lives - moments when they were on top of the world, and moments when they're at the bottom. All of that is part of the struggle most of us go through, as we move through our lives toward the inevitable end.
"So, in the two hours that I'm up there on stage, in both my songs and my stories, I try to make sense of all that, and create an experience for the audience that, when it's over, they feel like it was a good investment of their time."
Kevin Ransom is a freelance writer who covers music for AnnArbor.com. He can be reached at KevinRansom10@aol.com.