Posted on
Mon, Apr 16, 2012 : 5 a.m.
Bridge column, April 16: If partner signals, believe him
By Phillip Alder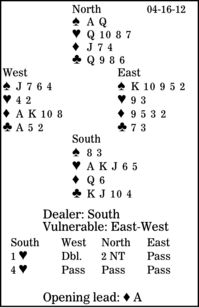 Last week we compared active and passive defense. This week we will look at less specific defense deals, covering a variety of techniques.
Most deals that feature signaling require playing either an unnecessarily high card to encourage partner to continue the suit he has led or the lowest one to warn of no help in that suit. Take this deal as an example. Against four hearts, West starts with the diamond ace: four, two, six. How should he plan the defense from there?
Over West's takeout double, North's two no-trump was Truscott (often incorrectly called Jordan, after Bobby, who popularized it in the United States). It promised at least game-invitational values with four or more cards in partner's suit. (With a strong balanced hand, North should start with a redouble.)
Many Wests would not resist the temptation to cash the diamond king at trick two. And as you can see, that is fatal for the defense. Assuming West shifts to a spade at trick three (aided by East's dropping a suit-preference diamond nine at trick two), declarer calls for dummy's ace, draws trumps and discards his second spade on the established diamond jack. He loses only two diamonds and one club.

West should trust his partner's discouraging diamond two, which marks declarer with the queen. It is time to switch. A club might be best, but a spade looks more logical. Declarer has no option but to try the finesse; however, it loses and eventually the defenders will collect one spade, two diamonds and one club.

** ** **

COPYRIGHT: 2012, UNITED FEATURE SYNDICATE

DISTRIBUTED BY UNIVERSAL UCLICK FOR UFS