Posted on
Sat, Feb 11, 2012 : 5 a.m.
Bridge column, February 11: It would be easy to fall to defeat
By Phillip Alder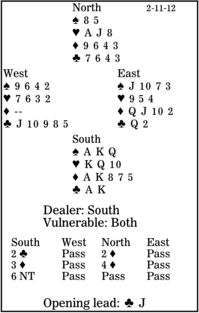 Vince Lombardi, coach of the Green Bay Packers when they won Super Bowls I and II in 1967 and '68, said, "The greatest accomplishment is not in never falling, but in rising again after you fall."
At the bridge table, it would be very easy to fall in this contract. What is the right line of play in six no-trump after West leads the club jack?
South's hand is an attractive nightmare. The way to indicate a balanced 28 points is to open two clubs and rebid four no-trump. But that is highly unwieldy, giving responder no room to maneuver. So at the table South rebid three diamonds, North raised to show diamond support and some points, and South blasted into six no-trump. (Yes, Roman Key Card Blackwood would have helped, permitting South to check for the heart ace and diamond queen.)
South has 10 top tricks: three spades, three hearts, two diamonds and two clubs. He needs two more diamond tricks -- four in total, not five.

If diamonds are 2-2 or 3-1, everything works. If West has four diamonds, the contract is unmakable. But in case East has four, declarer should lead a low diamond from his hand at trick two.

East wins and returns a club, but South takes that trick, overtakes his heart 10 with dummy's jack, and plays a diamond. East will probably split his honors (play one of them), but declarer wins, returns to dummy with a heart, and finesses East out of his third diamond honor.

If you fell to defeat, pick up the cards and rise again in the next deal.

** ** **

COPYRIGHT 2012, UNITED FEATURE SYNDICATE

DISTRIBUTED BY UNIVERSAL UCLICK FOR UFS