Posted on
Tue, Feb 14, 2012 : 5 a.m.
Bridge column, February 14: A jewel of a play on Valentine's Day
By Phillip Alder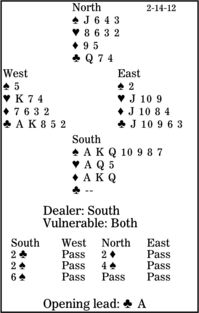 Frank Morgan, an actor who died in 1949, said, "A heart is not judged by how much you love, but by how much you are loved by others."
In this deal, the result is judged not by how the heart suit is played, but by how many tricks are lost. How should South plan the play in six spades after West leads the club ace?
Note North's rebid in the auction. This showed at least four-card spade support, but denied any first-round control (ace or void) or second-round control (king or singleton).
South starts with 11 top tricks: seven spades, one heart and three diamonds. At first glance, he needs the heart finesse to win. However, there is a much better line, which always works when West has the club king but does not cost anything if East turns up with that card.
After ruffing the club ace and drawing trumps, South should take his three diamond winners, discarding a club from the board. He then plays a spade to dummy's jack and calls for the club queen, pitching his heart five.

Here, West wins and is endplayed. He must either lead a heart into South's ace-queen or concede a ruff-and-sluff (declarer ruffs in the dummy and sluffs his heart queen).

What would happen if East produced the club king?

He would be left on play, forced either to shift to a heart, when South still gets home if the finesse is winning, or to concede a fatal ruff-and-sluff.

** ** **

COPYRIGHT 2012, UNITED FEATURE SYNDICATE

DISTRIBUTED BY UNIVERSAL UCLICK FOR UFS