Posted on
Thu, Feb 16, 2012 : 5 a.m.
Bridge column, February 16: The ducks are triply difficult
By Phillip Alder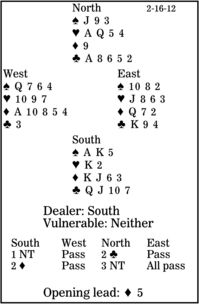 Douglas William Jerrold, an English dramatist and writer who died in 1857, said, "He was so benevolent, so merciful a man that, in his mistaken passion, he would have held an umbrella over a duck in a shower of rain."
Today's deal involves several ducks of the unfeathered variety, some more successful than others. What are they?
South is in three no-trump. West leads his fourth-highest diamond and East plays the queen.
When South denied a four-card major in answer to Stayman, North understandably hoped that the diamond suit would not prove a fatal liability in no-trump. Five clubs looked unlikely with his hand, although it could have been made.
South has seven top tricks: two spades, three hearts, one diamond (given trick one) and one club. At least three extra tricks can come from clubs, but is there a danger in diamonds?
Yes! Note that if declarer takes the first trick and runs the club queen, East wins and returns the diamond seven (the higher of two remaining cards). Whether South covers with his jack or ducks, the defenders run the suit for down one.

Now let's go back and permit declarer to duck at trick one. East leads back the diamond seven. What happens now?

If South covers with the jack or king, it is West's turn to duck, keeping communication with his partner. Again the contract fails.

But declarer can duck for a second time, letting East win with his seven. Now the contract makes.

** ** **

COPYRIGHT 2012, UNITED FEATURE SYNDICATE

DISTRIBUTED BY UNIVERSAL UCLICK FOR UFS