Posted on
Fri, Feb 17, 2012 : 5 a.m.
Bridge column, February 17: The target is nine, not a bull's-eye
By Phillip Alder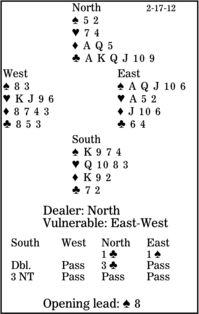 Kenneth Williams, an English radio, television and movie comedian, said, "I see myself as a roving mosquito, choosing its target."
Bridge defenders should see themselves as mosquitoes, choosing the number of tricks needed to defeat the contract as their target.
How should East bite into this three-no-trump contract after West leads the spade eight?
South might have responded one no-trump, but making a negative double to keep hearts in the picture was better. Then, after North showed extra values with at least six respectable clubs, it was reasonable for South to take a shot at three no-trump. (If South had responded one no-trump, North, with seven certain winners, would have raised to three no-trump.)
When the dummy comes down, East should ask himself two questions: Where might my side find five winners, and how many tricks does declarer have ready to run?

The defenders need to take either four spades and one heart or one spade and four hearts.

If East, after capturing the first trick, continues spades, he should realize that South will win with his king and take at least eight more tricks via two diamonds (the finesse is working if needed) and six clubs.

Instead, East must win with his spade ace and shift to the heart two, hoping West has four strong hearts.

Here, this line of defense works perfectly. West takes the trick as cheaply as possible and returns the heart six to East's ace. Then another heart through South results in down one.

** ** **

COPYRIGHT 2012, UNITED FEATURE SYNDICATE

DISTRIBUTED BY UNIVERSAL UCLICK FOR UFS