Posted on
Tue, Feb 21, 2012 : 5 a.m.
Bridge column, February 21: Tipping partner to your wish
By Phillip Alder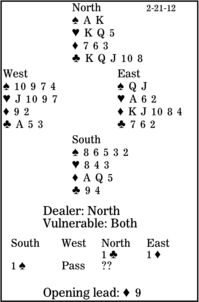 Our favorite orator, A.N. Other, said, "The tipping custom originated in England when small sums were dropped into a box marked T.I.P.S. -- To Insure Prompt Service."
We have bridge bids that tip our hand to partner -- as in today's deal. Look at North's hand. He opens one club, East overcalls one diamond, South responds one spade, and West passes. What should North do now?
South ends in three no-trump. West leads the diamond nine. How should South plan the play?
In the bidding, North was planning to jump-rebid two no-trump to show his strong balanced hand. Now, though, he cannot bid no-trump without a diamond stopper. How can he show his high-card power?
North should cue-bid East's suit, rebidding two diamonds. This announces a maximum opening and forces to game. Typically, opener will not have a stopper in the overcaller's suit. Responder is asked to do something descriptive, with the top of the list being bidding no-trump with something respectable in diamonds.

Here, South rebids two no-trump, and North raises to game.

South has only four top tricks: two spades and two diamonds (given the lead). He can get four winners from clubs, so also needs one heart trick. When you have two stoppers in the suit they've led and two high cards to drive out, the normal rule is to duck the first trick.

South wins the second diamond and plays on clubs. When West takes his ace, he does not have a diamond to lead.

** ** **

COPYRIGHT 2012, UNITED FEATURE SYNDICATE

DISTRIBUTED BY UNIVERSAL UCLICK FOR UFS