Posted on
Fri, Feb 24, 2012 : 5 a.m.
Bridge column, February 24: One way to survive a bad trump break
By Phillip Alder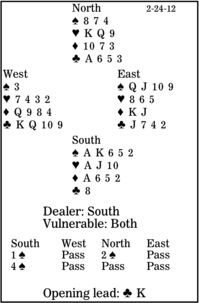 Author James A. Michener, who died in 1997, said, "I think the crucial thing in the writing career is to find what you want to do and how you fit in. What somebody else does is of no concern whatever except as an interesting variation."
This deal is an interesting -- and more difficult -- variation on my theme of yesterday: how to survive a bad trump break.
South reaches four spades, and West leads the club king. How should declarer proceed?
After South hears about spade support, he re-evaluates his hand, adding two points for his singleton. This makes his hand worth 18 points, just enough for a jump to game. (His hand also contains five losers, if we treat A-J-10 as one loser. This is the number for a game-bid after a single raise.)
At first glance, declarer has one spade and three diamond losers. It might be tempting to duck a diamond and to think about ruffing the last diamond on the board (if they do not divide 3-3). But that line of play is dangerous.

Instead, count winners. South has three hearts, one diamond and one club. So if he can take five trump tricks, he is home. He should play to score all of his low trumps. And it is not a moment too soon to start.

After taking the first trick with dummy's club ace, declarer must ruff a club in his hand. Then he cashes the ace and king of spades to get the bad news. But now South crosses to the board with a heart, ruffs a second club, cashes the diamond ace and heart ace, returns to the board in hearts, and trumps the last club for his 10th trick.

** ** **

COPYRIGHT 2012, UNITED FEATURE SYNDICATE

DISTRIBUTED BY UNIVERSAL UCLICK FOR UFS