Posted on
Sat, Feb 25, 2012 : 5 a.m.
Bridge column, February 25: A bid that helps a defender to lead
By Phillip Alder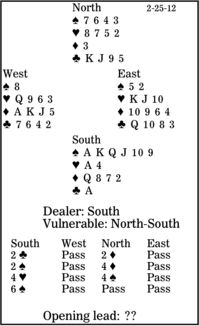 Adrienne Rich, a poet, essayist and feminist, said, "Pride is a tricky, glorious, double-edged feeling."
A lot of things we do at the bridge table are double-edged. If we bid and the opponents buy the contract, we have probably helped their declarer play. If we use a bidding convention, we give extra information to the defenders.
In this deal, look at the West hand. South opens two clubs, strong, artificial and forcing. North responds two diamonds, weak and artificial. South rebids two spades, natural. North jumps to four diamonds, a splinter bid announcing at least four-card spade support, some goodies and a singleton (or void) in diamonds. South control-bids (cue-bids) four hearts. North signs off in four spades (denying a diamond void). And South jumps to six spades.
What should West lead?
West would normally select the diamond ace, but knowledge of dummy's singleton suggests that this is not a wise choice. Better is to try to establish a trick that can be cashed when West is in with a high diamond. This points to the heart three. And here, that start is lethal.

A trump lead also looks promising, but South has a glorious riposte. He takes the first trick, cashes the club ace (not vital), and continues with the diamond queen. Since West does not have another trump to lead, declarer can ruff three diamonds on the board and discard his heart loser on the club king.

** ** **

COPYRIGHT 2012, UNITED FEATURE SYNDICATE

DISTRIBUTED BY UNIVERSAL UCLICK FOR UFS