Posted on
Wed, Jan 11, 2012 : 5 a.m.
Bridge column, January 11: After discarding, what comes next?
By Phillip Alder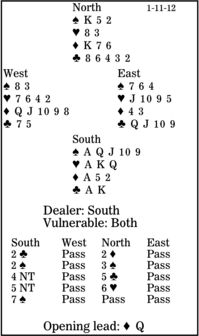 Ramakrishna, an acclaimed mystic in 19th-century India, said, "The world is indeed a mixture of truth and make-believe. Discard the make-believe and take the truth."
Today we are looking at the truth in deals requiring the discard of a loser by declarer.
Assuming declarer's hand contains more trumps than the dummy, he looks at his 13 cards, notes dummy's high cards, and works out how many tricks he might lose. Then, if he finds too many, he works out how to eliminate those he cannot afford.
West leads the diamond queen against seven spades. How should South play?
After two clubs, artificial and strong, and two diamonds, artificial and weak, the auction was natural until South used two doses of Blackwood.
Taking a discard is one common way to remove a loser. But what is the difference between discarding a loser from hand and a loser from dummy?

If declarer discards a loser from his hand, that is the end of his worries. But if he pitches a loser from the dummy, he still has a loser in his hand, which must then be ruffed in the dummy -- it is a two-step process, which happens here.

South wins the first trick in the dummy, draws two rounds of trumps, leaving dummy's king intact, and cashes his three heart tricks, discarding a diamond from the dummy. He takes the diamond ace and ruffs his last diamond with the board's spade king. Declarer returns to his hand with a club, draws East's last trump, and claims.

** ** **

COPYRIGHT 2012, UNITED FEATURE SYNDICATE

DISTRIBUTED BY UNIVERSAL UCLICK FOR UFS