Posted on
Thu, Jan 12, 2012 : 5 a.m.
Bridge column, January 12: Two and one give a dozen tricks
By Phillip Alder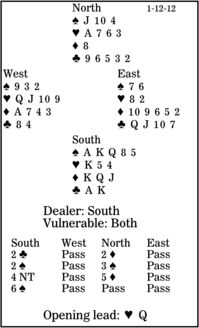 Larry Bird, former basketball superstar for the Boston Celtics, said, "While day by day the overzealous student stores up facts for future use, he who has learned to trust nature finds need for ever fewer external directions. He will discard formula after formula, until he reaches the conclusion: Let nature take its course."
That might be fine in basketball, but not in bridge. If you just pull cards, letting nature take its course, you will fail in makable contracts.
What is natural for declarer? Immediately drawing trumps comes to mind. Well, is that right in this small slam? West leads the heart queen against six spades. How should South play?
After the strong two clubs and weak two diamonds, South shows his long suit. Then North's raise promises some values: a good four to seven points. South used Blackwood, then jumped to six spades when he learned an ace was missing.
If declarer draws trumps, he will lose one heart and one diamond. However, with a little luck South can arrange a heart ruff in the dummy!

He wins the first trick in the dummy (not that this is vital; it just makes communications easier) and immediately leads a diamond. Let's suppose West wins with the ace and returns a heart. Declarer wins with the king and cashes his two diamond winners, discarding the remaining hearts from the dummy. Finally, he plays the heart loser still nestling in his hand, ruffs it high, draws trumps, and claims.

** ** **

COPYRIGHT 2012, UNITED FEATURE SYNDICATE

DISTRIBUTED BY UNIVERSAL UCLICK FOR UFS