Posted on
Fri, Jan 13, 2012 : 5 a.m.
Bridge column, January 13: Find the lucky play on an unlucky day
By Phillip Alder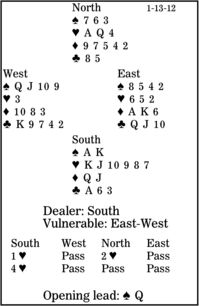 Sir Winston Churchill said, "The truth is incontrovertible. Malice may attack it, ignorance may deride it, but in the end, there it is."
Bridge declarers must seek the truth -- incontrovertibly the right play. It will not always win, due to the vagaries of the cards, but if you always find the best line, you will be a winner.
In today's deal, South is in four hearts. After West leads the spade queen, what is the truth, the right line of play?
When I run this deal in classes, the majority adopt an incorrect approach. I cannot decide if you should get bonus points for working out what that is, or if it is better that it never occurs to you.
South's jump to game was a tad aggressive, but he was -- no lie -- a member of the "if you smell a game, bid it" club.

The "standard" line of play is: win with the spade king, cash the spade ace, play a trump to dummy, ruff the last spade in hand, and draw another round of trumps. Then, when the 3-1 break comes to light, declarer finally turns to clubs. When East wins a trick in that suit, if he is a good defender, he returns his last trump to kill both the club ruff and the contract.

The better declarers see that they have four losers in their hand: two diamonds and two clubs. They also notice the shorter club holding in the dummy and that they can ruff a club. They take the first trick, cash the club ace, and lose a club. When they are back in their hand, they ruff their last club high, draw trumps, and claim.

** ** **

COPYRIGHT 2012, UNITED FEATURE SYNDICATE

DISTRIBUTED BY UNIVERSAL UCLICK FOR UFS