Posted on
Mon, Jan 16, 2012 : 5 a.m.
Bridge column, January 16: No-trump contracts are 'all the same'
By Phillip Alder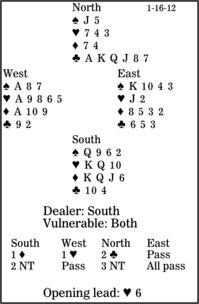 Bryan Miller, a former food critic at The New York Times, said, "The disparity between a restaurant's price and food quality rises in direct proportion to the size of the pepper mill."
There is a disparity in a bridge library between the number of books about no-trump contracts (I have three) and trump contracts (more than 100). Why is there such a sizable difference?
Because no-trump contracts are effectively all the same, but when there is a trump suit, the possibilities are numerous.
This deal highlights the no-trump modus operandi. After West leads a low heart to East's jack and South's king, what should declarer do?
In the bidding, note North's raise to three no-trump. With six winners, he should go for the nine-trick game, not think about anything else. In particular, North must not pass. With a long minor opposite a known fit, do not play in two no-trump. Either bid three no-trump or, if you think that has no chance, sign off in three of your long suit.

South starts with seven top tricks: one heart (given the lead) and six clubs. He needs to establish two more, and those are readily available in diamonds.

At trick two, declarer should lead the diamond king from his hand. And if he wins the trick, he should then lead the heart queen. He establishes the winners that he needs before cashing his top tricks.

If you are curious, lay out the deal and try running the clubs immediately. Its effect on the South hand is not pretty.

** ** **

COPYRIGHT 2012, UNITED FEATURE SYNDICATE

DISTRIBUTED BY UNIVERSAL UCLICK FOR UFS