Posted on
Thu, Jan 19, 2012 : 5 a.m.
Bridge column, January 19: Careful players are not careless
By Phillip Alder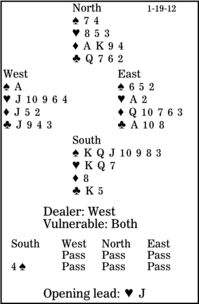 A.R. Ammons, a poet who died in 2001, said, "Is it not careless to become too local when there are 400 billion stars in our galaxy alone?"
It is careless to become too local when there are only 13 tricks at the bridge table. Look at the complete picture and do not stop concentrating; otherwise, you will probably make a mistake.
Here is an example. South is in four spades. West leads the heart jack. East wins with his ace and returns the heart two to South's king. How should the play proceed from there? As a secondary issue, what do you think of the auction?
Taking the bidding first, it looks eminently sensible to me. North would surely have opened the bidding if he had three aces, so South can be sure his side does not have a slam. And with so many playing-tricks, he should take an immediate shot at the contract he is happy to reach.
There seem to be only three losers: one spade, one heart and one club. So it would be easy to get careless, playing a trump at trick three.
However, disaster strikes when West takes the trick and leads another heart, which East ruffs. East then cashes the club ace for down one.
The heart ruff is the only danger, and there is a way to avoid it. Before touching trumps, declarer should cash dummy's top diamonds and discard his remaining heart queen. Then he can safely play a trump because he can overruff East if West plays a third heart.
Always wonder what danger might be lurking behind the planet and see if you can find a way to fly safely around it.
** ** **
COPYRIGHT 2012, UNITED FEATURE SYNDICATE
DISTRIBUTED BY UNIVERSAL UCLICK FOR UFS
There seem to be only three losers: one spade, one heart and one club. So it would be easy to get careless, playing a trump at trick three.

However, disaster strikes when West takes the trick and leads another heart, which East ruffs. East then cashes the club ace for down one.

The heart ruff is the only danger, and there is a way to avoid it. Before touching trumps, declarer should cash dummy's top diamonds and discard his remaining heart queen. Then he can safely play a trump because he can overruff East if West plays a third heart.

Always wonder what danger might be lurking behind the planet and see if you can find a way to fly safely around it.

** ** **

COPYRIGHT 2012, UNITED FEATURE SYNDICATE

DISTRIBUTED BY UNIVERSAL UCLICK FOR UFS