Posted on
Tue, Jan 24, 2012 : 5 a.m.
Bridge column, January 24: What is the way to play the honors?
By Phillip Alder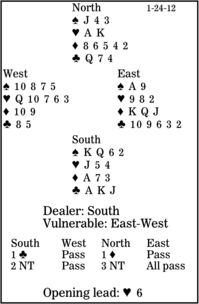 Harry S. Truman said, "When you get to be president, there are the honors, the 21-gun salutes, all those things. You have to remember it isn't for you. It's for the presidency."
When you get to be declarer, there are all those things, the honor cards. You have to remember they aren't for you. They are for the contract.
In this three no-trump, what should South do after West leads his fourth-highest heart?
South's two-no-trump rebid shows more than a one-no-trump opening and less than a two-no-trump opening. This equates to a good 17, 18 or 19 or a poor 20 points. In principle, it is forcing to game. Also, unlike a claim by one of my colleagues, South's bid does not deny a four-card major. Here, South could even have two four-card majors with 4-4-2-3 distribution.
First, declarer salutes his top tricks. Here, he has only six: two hearts, one diamond and three clubs. Then perhaps he thinks that he should play on diamonds. But that will work only if diamonds are 3-2 and hearts are 4-4. If hearts are the more likely 5-3, South will lose three hearts and two diamonds.

Instead, declarer should go after three spade tricks. And, as we saw yesterday, the correct approach is to lead twice toward the hand with the two honors. So, after winning trick one in the dummy, South should lead a spade to his king. When that honor wins, declarer overtakes his club jack with dummy's queen and calls for dummy's second low spade. When East has to win with his ace, the contract is gun-proof.

** ** **

COPYRIGHT 2012, UNITED FEATURE SYNDICATE

DISTRIBUTED BY UNIVERSAL UCLICK FOR UFS