Posted on
Wed, Jan 25, 2012 : 5 a.m.
Bridge column, January 25: Watch your honors and your entries
By Phillip Alder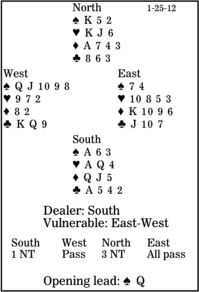 In "Henry V," William Shakespeare wrote, "If it be a sin to covet honor, I am the most offending soul." This is part of a fictional rendering of the speech given by Henry V to his troops before the Battle of Agincourt in 1415.
Bridge players covet and generate tricks with their honor cards, which is this week's theme. However, today's deal involves a second important aspect of declarer play and defense.
You are South, in three no-trump. West leads the spade queen. What would you do?
Before engaging the enemy in trick-to-trick combat, count your immediate winners. Here, you have seven: two spades, three hearts, one diamond and one club. So, you need two more tricks from somewhere. The clear candidate is the diamond suit. However, since you need three diamond tricks, do not lead the queen for a finesse. This will break even if the suit splits 3-3 (when all sane plays work), but costs badly against many 4-2 divisions.
The right basic plan is to lead diamonds twice toward the hand with the two honors. But with this layout, if East ducks the first round and takes his king on the second, your suit will be blocked. After regaining the lead and cashing the diamond jack, you will need a dummy entry to get to the diamond ace.

Win trick one in the dummy and lead a low diamond toward your queen-jack. Assuming East ducks, win with your queen, return to the dummy with a heart to the jack, and call for another low diamond. Here, as you were careful with your entries, everything is wine (red, white or rose) and roses (red, white or some other color).

** ** **

COPYRIGHT 2012, UNITED FEATURE SYNDICATE

DISTRIBUTED BY UNIVERSAL UCLICK FOR UFS