Posted on
Sat, Mar 17, 2012 : 5 a.m.
Bridge column, March 17: The right play for one loser
By Phillip Alder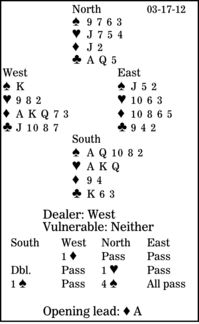 The Senior Life Master was ready to start a new season of lessons, now that the snow had melted.
"Bridge contains so many suit combinations that no one knows them all. Let's start with one that inexperienced players often get wrong."
The SLM asked his students to study the first declarer-play problem on the sheets he had handed out. (They were looking at only the North and South hands in today's diagram.)
South (the SLM continued) is in four spades. West cashes two diamond tricks, then shifts to the club jack. How should South plan the play?
While they were thinking, the SLM discussed the bidding.
Note South's sequence. A simple overcall, especially in spades, has an upper limit of about 17 high-card points. With 18 to 20 points, South makes a takeout double, then bids his suit on the second round. North, who might have jumped to two hearts, immediately raises to game.

South can afford one trump loser but not two. And, interestingly, the right play is the same even when the opponents have not bid.

South has 18 points and the dummy eight. That leaves 14 for the opponents. West surely has the spade king. The best play is to cash the spade ace first. Here, the king drops and South can gain an overtrick. But if the ace collects only the two and five, South should cross to dummy with a club and lead toward his spade queen, basing his play on East's. If East plays the jack, cover with the queen. If he wins with the king, play low. And if he shows out, groan because you could not have made the contract.

** ** **

COPYRIGHT: 2012, UNITED FEATURE SYNDICATE

DISTRIBUTED BY UNIVERSAL UCLICK FOR UFS