Posted on
Sat, Mar 24, 2012 : 5 a.m.
Bridge column, March 24: Christmas competition's best entrants
By Phillip Alder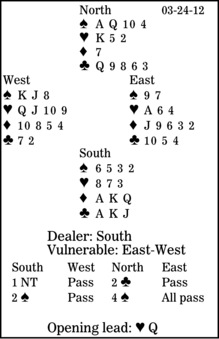 There was a smaller number of entries than usual this year, although it was again multinational, with submissions from Canada, India, Israel and the United States. Perhaps the single-dummy (declarer-play) problem was too hard.
Perfect answers came from Darryl Depew, Henderson, Nev.; William Gibbs, Staunton, Va.; and Jim Ritts, Knoxville, Tenn.
Other entrants who got the play problems right but tripped up on one or more of the bidding questions were John Harvey, Mount Hope, Ontario; Richard Walker, Mansfield, Pa.; and Murray Wolf.
In today's deal, South does not like to open one no-trump with two unstopped suits, but it describes his hand as well as possible. North, with a singleton, uses Stayman to uncover the spade fit. (If South opens one club, North responds one spade, South raises to three spades, and North bids four spades, getting to the contract from the better side. Nothing works all the time.)
West leads the heart queen, the defenders taking three tricks in the suit, then shifting to a diamond to South's ace. How should declarer continue?

He has to play trumps without loss. This requires finding West with the king-jack-doubleton or -tripleton.

Declarer must lead a spade to dummy's 10. When it holds the trick, he returns to his hand with a club, plays a spade to dummy's queen (unless West tries a sneaky king, hoping South isn't watching carefully!), cashes the spade ace, and claims.

** ** **

COPYRIGHT: 2012, UNITED FEATURE SYNDICATE

DISTRIBUTED BY UNIVERSAL UCLICK FOR UFS