Posted on
Wed, Jul 13, 2011 : 5 a.m.
'Books Can Be Deceiving' by Jenn McKinlay, one of my Top 10 favorite cozies this year
By Lisa Allmendinger
Books Can Be Deceiving: A Library Lover's Mystery
By Jenn McKinlay
Paperback, 278 pages, $7.99
Lindsey Norris, the new library director at Briar Creek Library, isn't your usual bookworm. She's got a great sense of humor, an exciting new stage in her life in front of her and a darling best friend, Beth Stanley, who really gets into character as the children's librarian.
"If Beth weren't a librarian, Lindsey was pretty sure she'd be a circus performer."
Set in Connecticut, this first in a new series is delightful. In fact, I read it in two sittings. It's got everything a cozy should have — a terrific small town setting, characters you care about as a reader and a plot that moves right along and keeps you guessing until the end.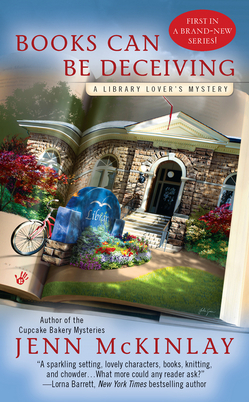 Jenn McKinlay pens a wonderful tale of deceit when Beth's ex-boyfriend, Rick, rips off her children's book idea and sells it to his editor. The award-winning children's author — a rather unlikeable fellow — is found dead on his private island off the coast of Connecticut and the tangled web he's lived starts unraveling.
"Lindsey could see the appeal of having your own island. No door-to-door salesman, no traffic, no homeowner's associations. If you wanted to be left alone, an island was a good way to go."
Because, perhaps, sometimes people aren't who they say they are.
"A knife in the chest seemed very metaphorical," Lindsey says of the crime scene, and the killer had written the word 'liar' across the victim's forehead. Someone wasn't happy with the acclaimed children's book author.
I adore books that draw the reader into a fictional world so deeply that you want it to be real. This new series made me want to eat chowder and drink hot chocolate in the summer. I wanted to try my hand at knitting and meet the ladies of 'Crafternoon' and go Storytime.
From widow's walks, to the New England charm of a town by the sea, I could have sworn I heard fog horns while sitting here reading in the middle of Michigan.
Great title. Great writing. Great characters. Great plot. I look forward to the next title in the series, and I'm rooting for Lindsey to swear off her non-dating pledge and get together with dreamy Sully, the boat captain.
"Road trips required a couple of things: a well-balanced diet of caffeine, salt and sugar and an excellent selection of tunes — oh, and the directions." My kind of road trip.
And my kind of cozy. Jenn McKinlay has vaulted herself into my top 10 favorite books of the year. Bring on the next installment: 'Due or Die.'

Lisa Allmendinger is a regional reporter for AnnArbor.com. She can be reached at lisaallmendinger@annarbor.com. In addition, each Wednesday she reviews a cozy mystery in her column called "Cozy Corner."