Posted on
Wed, Sep 28, 2011 : 5 a.m.
'Pleating for Mercy' by Melissa Bourbon combines dressmaking and a little magic
By Lisa Allmendinger
Pleating for Mercy
By Melissa Bourbon
A Magical Dressmaking Mystery
Paperback, 303 pages, $6.99
Although I'm not much of fan of 'magical' cozy mysteries, 'Pleating for Mercy' by Melissa Bourbon, is, well, charming.
In this first installment in 'A Magical Dressmaking Mystery,' there's a goat whisperer, a flower whisperer and, the star of the show, a very talented dressmaker named Harlow Jane Cassidy. And, they are all descendents of bandits. I completely bought into the Cassidy women and their "special gifts," and I liked family's tie to Butch Cassidy.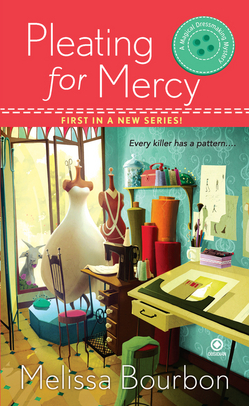 How can you not like a character that can drink a hot cup of Joe as easily on a sweltering day as she can on a chilly 40-degree one and calls herself a "Project Runway," "Dancing with the Stars" and "Iron Chef" kinda gal.
All about fabric and design after learning to sew when she was 8 years old, Harlow's ability to see, then sew the perfect dress for every customer in Bliss, Texas, "a spit of a town," is refreshing.
I wondered what she might design for me while I was reading.
I wanted to visit the old farmhouse at 2112 Mockingbird Lane that had been deeded to Harlow upon her birth — even though she didn't know it — and thought Buttons & Bows was a perfect name for her fledgling business.
"There are no mistakes in sewing. Only opportunities for design," but will making someone else's wedding dress truly spell bad luck for Harlow's future relationships?
She's been hired to create a wedding dress for a childhood friend as well as the bridesmaid's attire, but when the maid of honor is murdered, will the show go on?
Even though "A wedding at the heels of death is sure to bring bad luck," Harlow is determined to make it work — from her end, anyway.
"The dress I made for her would be beyond perfect. Every seam I stitched would hold together her dreams. Every bead I sewed would bring sparkle back into her life. And every pleat I added would help her fold her grief into manageable pieces."
As she tries to help her childhood friend find out whodunit, crossing paths with the local police force is nothing new to her. As a youth, she and a few friends were caught tipping cows and climbing the city's water tower. Memories are long in the Lone Star State. then adding another wrinkle to the fabric, her mother is secretly dating the police chief.
So along with all the stitching comes a little sleuthing. and she gets a little help "from beyond" to uncover the killer.
I'm interested to see where Bourbon takes this series in the next installment 'A Fitting End,' due out in February.
You can find out more about the author by visiting her website, www.melissabourbon.com.
Lisa Allmendinger is a regional reporter for AnnArbor.com. She can be reached at lisaallmendinger@annarbor.com. In addition, each Wednesday she reviews a cozy mystery in her column called "Cozy Corner."