Posted on
Sat, Nov 28, 2009 : 1:29 a.m.
David Archuleta makes second half of symphony show sing
By Roger LeLievre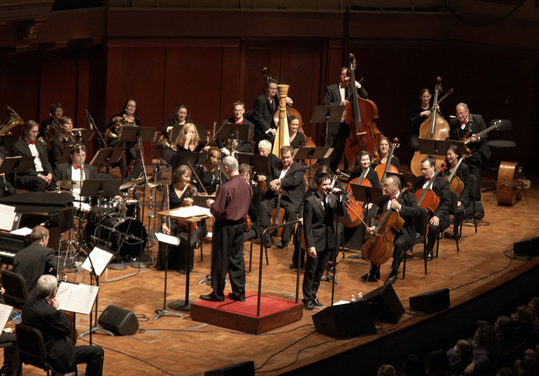 photo courtesy of the Ann Arbor Symphony Orchestra
I'll admit, after the first half of pop singer
David Archuleta
's concert with the
Ann Arbor Symphony Orchestra
Friday night, I was struggling to keep my inner Simon Cowell in check. But for the second half, it was Paula Abdul all the way.
The first half of the "Christmas From the Heart" program at Hill Auditorium was a surprising disappointment. Archuleta, "American Idol" runner up in 2008 and thus familiar with the ways of acerbic judge Cowell and the more gentle Abdul, seemed to lack confidence. Control, pacing and pitch were all over the map, and many high notes were left untouched.
Sharply dressed in a dark suit, white shirt and tie, Archuleta appeared most comfortable with the Spanish Christmas carol "Riu Riu Chiu" and Sting's "Fields of Gold." He accompanied himself on the piano for Vanessa Carlton's "1,000 Miles," and sounded good enough, but was surprisingly weak on his pop hits, "Zero Gravity" and "Crush."
Was he nervous? Intimidated by his first-ever full show with a symphony? Wishing he were at home for Thanksgiving? Whatever it was, it left me wondering if the millions who voted for him on "Idol" were responding more to his sweet charm than his musicality. But in the second part of the show, both attributes were in evidence — a potent combination that could take him far. During "What Child Is This," I could see the performer I hope he will eventually become. He sang from the heart and it was pure gold.
This was the Archuleta I was hoping to hear, his voice on standards such as "Ave Maria" and "Silent Night" powerful and filling Hill Auditorium the way it was meant to be filled. The standing ovation after the latter was earned and deserved. He seemed so much more at ease after the break, and his voice reflected the change, especially on the French carol "Patapan" and the lovely ballad "Merry Christmas To Me," which he said he was performing in public for the first time Friday night.
As for his between-song comments, well, let's just say he's got so much energy he seldom seemed to finish a thought, or even a sentence, before he hurried off to the next one. He seemed nonplussed by the screaming teens and tweens and the shouts of "We love you, David" in between songs, and waited patiently for the fuss to die down.
For an encore, he offered an impressive "O Holy Night" that was spiritual and powerful. Then, clutching a bouquet of red roses, he waved to his cheering, screaming fans, touched some hands in the front row, and was gone.
The audience was a cross-generational mix, with many of the diehard "Archies" in the choice seats down front. During intermission there was probably more texting going on than usual at an A2SO concert, and I can't recall ever seeing glow sticks at the symphony before.
Conducted by Music Director Arie Lipsky, the symphony, as usual, sounded superb. Leroy Anderson's "A Christmas Festival" got things off on the right foot, but it was Anderson's familiar "Sleigh Ride" that put me in a holiday mood.
Audience members were clearly delighted with the show.
"It's fun seeing someone with so much talent, who is only going to get better," said Ann Arborite Jim Fuester during intermission. "He's so fresh and has so much energy."
Carly Dempsey, also a local fan, said she too was thrilled with the performance.
"I like that he's really honest. When he's up there, he's a little shy, but it's natural. I think he sounded great — it's impressive what he can do with an orchestra," she said.
Alas, there were many empty seats on the main floor; upwards of 1,800 (out of 3,500) tickets were sold, according to A2SO Executive Director Mary Stefek Blaske. Although the turnout may not have been what was expected, you have to give the Ann Arbor Symphony credit for trying something different. This new partnership with Radio Disney is exciting and I hope it will continue, with the next show on a non-holiday weekend, which may have had an effect on crowd size.
Meanwhile, this is only the beginning for David Archuleta. It will be fun, someday, to say we saw him when.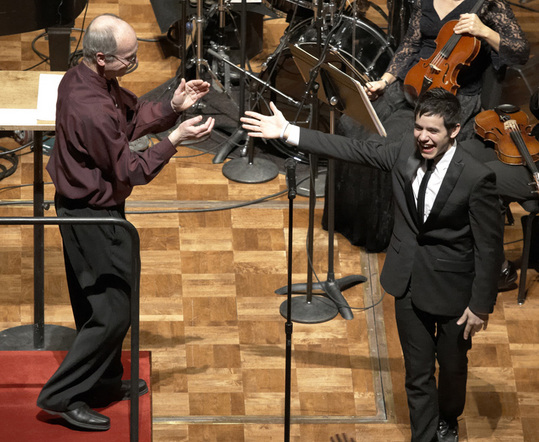 photo courtesy of the Ann Arbor Symphony Orchestra
Roger LeLievre is a freelance writer who covers music for AnnArbor.com.