Posted on
Tue, Mar 30, 2010 : 5:55 a.m.
One Shining Moment: Local songwriter David Barrett discusses his Final Four anthem
By Roger LeLievre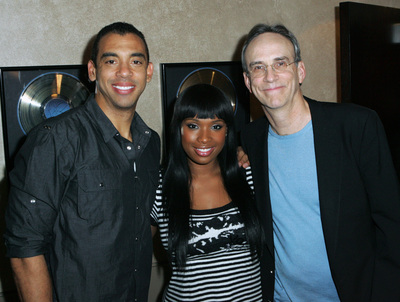 Photo courtesy CBS
Although he's always been a basketball fan, Ann Arbor songwriter and musician David Barrett takes an even stronger interest in hoops when the Final Four rolls around. That's because a song he wrote, "One Shining Moment," has been used in CBS' televised coverage of the event for almost 25 years, airing at the very end of the championship game postgame show, after interviews and commentary.
This year there will be a twist — pop star and Academy Award winner Jennifer Hudson recently recorded a new version, which will mark the end of the broadcast on Monday, April 5.
"She — and I don't say this out of braggadocio — really liked the song," Barrett said of Hudson, who he worked with in Los Angeles during recording sessions for the song in March. "She kept on saying 'Where did this come from?' She was really into it. It made my socks go up and down. She's a remarkable talent — genuinely thoughtful, genuinely classy and genuinely humble."
Barrett, who sat down with AnnArbor.com over coffee recently to talk about "One Shining Moment," said he wrote the song in about 20 minutes in 1986 after seeing basketball star Larry Bird on TV.
"I had made a personal decision that I was going to write about things I knew and cared about. I'd been to Nashville, I'd done the whole thing, I thought 'I can't write that.' … (The evening I wrote the song) I was playing at a bar, I had finished my night's work, I was looking at ESPN, watching Larry Bird, and the most beautiful waitress in the world sat down next to me … I tried to explain to her how amazing (Bird) was. Then the phrase came to me, that he was in the moment. The next thing I knew, I had this inner dialogue going on and somehow 'one shining moment' came out of my mouth and I knew exactly what I was going to do. I went home and wrote it." Listen to a clip of David Barrett "One Shining Moment" (MP3).
He said he knew immediately the song was something special.
"I called a friend of mine after writing it, and said 'I just wrote a great song.' I was living in Haslett, Michigan — a funky piano in a funky apartment," Barrett continued.
Who ya got?
Asked for his pick in this weekend's Final Four, David Barrett sends the following email:
With this bunch, it's anyone's guess. There is no undeniable powerhouse like there was with North Carolina last year. It'll depend on the refs. If they let the kids play in the sense of not blowing the whistle on every little thing, then I like MSU. If the refs decide to police the game, then I'd go with Duke who always shoots (and makes) more foul shots than their opponent. I'll go with the refs letting them play and my affection for Tom Izzo. Go Spartans!
"I have a buddy, basketball writer Armen Keteyian, he worked for
Sports Illustrated
… I just causally mentioned to him that I'd written this song about basketball, and it was pretty good. I recorded it and sent it to him. He literally ran it around New York. I got called from all the networks, in particular by someone who became a friend of mine from CBS, Doug Towey. … He helped shepherd it through CBS and protect it from the long knives, the new producers and the new executive producers and the new CEO and all those people.
"The next year they put it on the air — fortunately it was a great game, Indiana and Syracuse, won on a last-second shot. You couldn't have scripted it any better. They played it right after — the confetti was still in the air when they broke into it. And then (the song) just grew."
"One Shining Moment" has also been recorded by Teddy Pendergrass and Luther Vandross. The latter, Barrett said, cut his version 2 days before his death.
Although he worked with Hudson and producer Harvey Mason Jr. on the song, Barrett didn't have to rewrite it.
"We used the tracks I originally recorded at (Ann Arbor's) Solid Sound 24 years ago as a road map. They used the digital tracks; they put some different piano on it, a 35-piece choir and put some new bass on it," he said.
Final Four aside, the song also has a life beyond basketball. He's had people wanting to use it to mark birthdays, anniversaries, bar mitzvahs and even funerals.
"I get people who want to get married to it, who get buried to it, somebody who lost someone on 9/11 wanted it for a presentation they did at his funeral," said Barrett.
Still, he acknowledged, "One Shining Moment" is just 1 tune out of many he has written. He's won a silver medal at the New York Film Festival for a hip-hop song in "Don't Cross that Line," a short film about gambling and student athletes. And he won an Emmy for scoring a PBS documentary on the writer C.S. Lewis. He's also composed themes for the Professional Golf Association, the Olympics and tennis' U.S. Open.
"I've written hundred of songs … right now I am writing ragtime pieces for Turner Broadcasting and I've finished a piano score for a PBS show about Herbert Hoover. I've written 1 for the women's final four, "The Power of the Dream" (not to be confused with a Celine Dion song of that name) and I just finished one on 9/11."
He also finds time to continue working and performing with area singer-songwriters in musical collective The Yellow Room Gang.
Barrett said he often works with Chelsea musician/pianist Brian Brill.
"Anything good I've done, I've done with Brian — he is a brilliant musician and composer. He played the synth parts on 'One Shining Moment' and I am forever in his debt," said Barrett.
As he has for the past 8 years, Barrett, his wife Tracy and daughters Esther (age 19) and Claire (age 17) will be in the Final Four crowd this year when "One Shining Moment" is played on the JumboTron. Hudson will be out of the country shooting a movie and unable to perform it live, Barrett explained.
---
What they're saying about the song

"'One Shining Moment' has become as synonymous with the NCAA as first round upsets. -Sports Illustrated

"... music to stir one's adrenaline." -New York Times

"'One Shining Moment' is arguably the most famous song in sports." -Wall Street Journal

"'...The playing of the anthem 'One Shining Moment' has become as integral to the NCAA tournament and national championship as snipping the nets." -USA Today

"'One Shining Moment' is one of the great power ballads of all time...one last heartfelt goodbye." -Sports Illustrated on Campus

"The song inspires you. It moves you. It motivates you and helps you reach that goal and that dream." -Jennifer Hudson
---
He agreed that the song has taken on a life of its own.
"It is a charmed song. I write songs every day and I've written a bunch of stuff that has been on TV and in features, but no one ever wants to sit down and talk to me about it. They want to talk to me about this song," he said.
"Writing this song changed my life," Barrett added. "It's strange how that is so. The writing came so effortlessly. I knew immediately after that I had something special on my hands. It was almost like 'where did this come from?'
"In any case, the song opened all sorts of doors for me in a professional sense. On a personal note, it also showed me to write about what mattered to me. I just wrote it because I thought it was worth writing. For years I had been listening to what others thought was valid. It was this song that made it clear to me that my job was to write about what I know, and tell the truth about that."
Roger LeLievre is a free-lancer who covers music for AnnArbor.com.
NCAA on Campus video about "One Shining Moment":