Posted on
Sun, Nov 28, 2010 : 6:02 a.m.
All around town with David Zinn: poster designer, chalk artist and more
By Jennifer Eberbach
A lot of people in Ann Arbor would probably recognize design work and art made by local designer David Zinn, but not everyone knows who made it.
photo courtesy of David Zinn
For around two decades, he has illustrated posters, logos, store signs and other commercial art for local businesses, the City of Ann Arbor, and performance groups, as well as other clients around the U.S. and abroad.
He also likes leaving anonymous chalk drawings on sidewalks, store stoops and other surfaces around town that many residents have stumbled upon in surprise.
The commercial designer thinks his personality is a little different from a fine artist, but not entirely. "What is satisfying about doing art in a commercial context is that there is a story problem to be fixed, which someone else gives you. It's the opposite from the blank canvas artists usually face," Zinn says. Commercial art gives the designer "a tidy pile" of criteria to consider, which he likes. However, getting assignments from other people does not hinder his creative side. He likes the challenge of solving clients' creative problems.
There are tons of examples of Zinn's logos, signs and other commercial visual imagery out there around town. He suspects his best known might be in Kerrytown. He designed shop signs hanging outside of Mudpuddles and Elephant Ears, and he created four banners depicting the seasons to hang in view of the Farmer's Market.
Zinn has always been around Ann Arbor. He grew up on a lake in South Lyon with two parents who worked for the University of Michigan. After going to high school at Greenhills, he got a degree in creative writing from the University of Michigan's Residential College. While at the RC, a couple of the burgeoning creative type's extracurricular activities included doing public radio shows — he hosted kids programming on WCBN and Michigan Radio — and he joined up with the Gilbert and Sullivan Society.
His Gilbert and Sullivan Society gig ended up lasting 21 years. Zinn designed posters for their 13 operas, acted and directed. Back in college, "I was sitting there (in rehearsal) one day, terrified of being so extraverted. While I sat there, I drew all over my opera script for 'Ruddigore,'" he remembers. He had always been a doodler. The script pictured a "happy couple," while excluding any reference to the opera's darker side — witches and paintings that come to life, he remembers. It turned out that the Gilbert and Sullivan Society needed a poster designer. Zinn spent the next two decades illustrating posters for them.
One of his oldest jobs has been illustrating "Waste Watchers" comics included in City of Ann Arbor recycling information. The educational comics teach kids about sustainability and new city waste management programs like the new streamlined recycling bins that residents are still getting used to. "Usually it's the kids who are explaining these things to the older people anyway. When something new comes along, it'll be the youngest ones who embrace it when their parents might still be confused," Zinn laughs.
To satisfy his less regimented artistic side, Zinn tries to get out into the fresh air and draw chalk art in public as often as possible. Years ago, he remembers walking by a piece of graffiti on a Washington Street sidewalk. Mickey Mouse grinned up at him, but he had no ears. It was strange. "It was the most random piece of graffiti, until a certain point (in the day) when a parking meter's shadow fell (and became) the ears. That was one of the first cases I ever remember of experiencing art that was suddenly underfoot, serving the purpose of shaking you out of what you are doing at that moment," he says.
Although not graffiti — soon washing or wearing away — his chalk drawings play with pedestrians in ways similar to how Mickey Mouse surprised him years ago. His chalk art drawings are encountered all-of-a-sudden, and sometimes they mystify.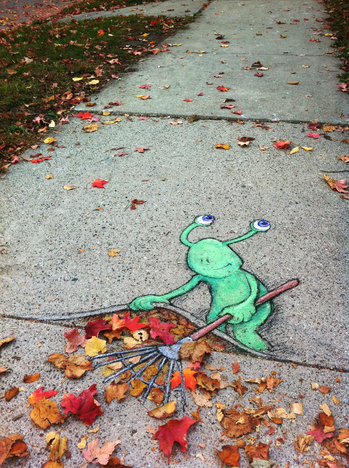 photo courtesy of David Zinn
One day, when he "should have been doing work," he had a sudden idea for one of his recurring chalk characters, an alien he calls Sluggo. He stopped to draw Sluggo pulling up a crack in the sidewalk like the edge of a rug and raking a pile of leaves under it. For another chalk drawing, he drew a little girl packing a real life snow ball. He is commonly inspired by his surroundings to make art.
Sometimes random strangers have surprising reactions to his chalk drawings — mostly positive. A few have even added their own touches. Once he drew a cute little rainbow-colored alien with a hole in its stomach. After he was done, he left for a while. When he returned, someone had left a pile of Skittles in the middle of the alien's belly. He thoroughly enjoyed stumbling upon the revision.
"Really it's pointless, other than hopefully it cheers someone up," Zinn says of his chalk art.
Zinn has drawn on Jefferson Market's stoop to commemorate a number of its anniversaries. He always makes sure businesses approve of him chalking up their properties. Sometimes they even ask him to do it. One of his favorite memories is of drawing on the Jefferson Market stoop at night with nobody around and leaving behind a surprise for market patrons to find in the morning.
Recently, Zinn has started doodling more realistic illustrations. He took a figure drawing class with his brother than ended up changing the way he draws, at least slightly.
"The days following the session, even my cartoon people seemed to have a little more heft. They were a little bit more realistic. Now my imagination is fueled by what I see, instead of only what I intuit. I'm trying to feed it with reality to see what will come out of it. It's like my hand knows a new line or a new curve now," he says.
Jennifer Eberbach is a free-lance writer who covers art for AnnArbor.com.