Posted on
Thu, Jan 13, 2011 : 8:01 a.m.
Drawing toons for the troops with local cartoonist Dave Coverly
By Jennifer Eberbach
Last October's 10-day USO tour in Kuwait and Iraq "kind of changed my DNA," says Dave Coverly, an Ann Arbor cartoonist and creator of the nationally syndicated comic "Speed Bump." Coverly was one of 10 American cartoonists who traveled to hospitals in Bethesda, Maryland; Washington, D.C.; and U.S. bases in Kuwait and Iraq to draw for the troops. The trip was coordinated by the National Cartoonists Society (NCS) and the USO.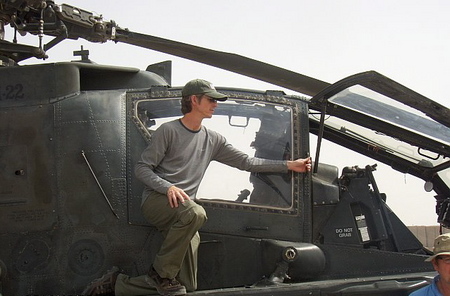 photo courtesy of Dave Coverly
"You get more than you give with the USO. You are there to entertain them, but it also changes you to see things you only hear about on the news. Hearing the soldiers' stories about things that have greatly impacted their lives is intense and it changes you," Coverly says.
The cartoonist describes his one-panel "Speed Bump" comics, which are usually also one-liners, as a series of "out-takes." The syndicated comic has appeared in publications nationwide, including the Washington Post, Detroit Free Press, Chicago Tribune and 400 more newspapers and websites.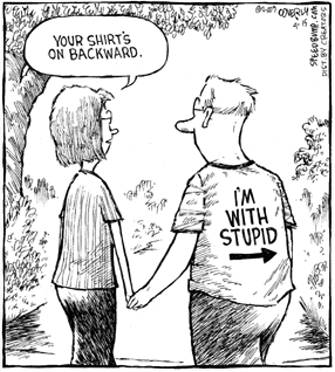 Coverly also regularly draws for Parade Magazine and he has contributed cartoons to Animal Times and Grrr! For Kids, as well as the New Yorker —Â including a recent panel with some local references. His drawing and comedy skills got him the NCS's coveted Reuben Award for "Outstanding Cartoonist of the Year," in 2009.
The cartoonists on the trip nicknamed themselves the "band of boneheads." Navy Times cartoonist and retired Navy Captain Jeff Bacon is credited with helping to coordinate the trip. The rest of the "boneheads" were Ray Alma (MAD Magazine), Chad Carpenter ("Tundra"), Rob Harrell ("Adam@Home"), Bill Hinds ("Tank McNamara"), Mason Mastroianni ("B.C."), Dave Mowder (Disney and Warner Bros.), Ed Steckley (Mad Magazine) and Tom Stiglich (Philadelphia Inquirer).
The 10 cartoonists began their USO tour drawing cartoons for soldiers injured in Iraq and Afghanistan at the Bethesda Naval Medical Center and Walter Reed Army Medical Center. They next traveled to Kuwait, where they drew cartoons for troops stationed at Camp Arifjan and Camp Ali Al Salem, before heading into Iraq, where they entertained troops stationed in Tallil, Basra, Baghdad and Balad.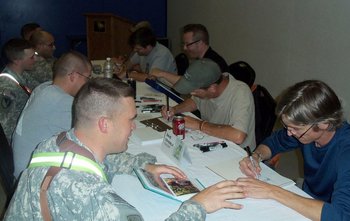 photo courtesy of Dave Coverly
Coverly and the other cartoonists spent a lot of time taking personal requests for cartoons from the troops and listening to their stories. "I don't have characters like some of the guys do and I don't do caricatures like the couple of guys who work for MAD Magazine. I just do jokes, which I think made my gig a little tougher at first. My niche became drawing jokes that use people's kids or pets as characters. A lot of the time they would come to me with photos of their families," he says.
"100 percent of what they requested wasn't about war. It was about their families and life back home. A lot of the time when I was talking with them, it wasn't about telling war stories. They talked a lot about their lives and families," Coverly explains.
The cartoonist remembers one soldier who wanted a family portrait of his three children, his wife's three children and their new baby. "He had the whole thing planned out like he had been thinking about it for weeks," Coverly says. He also drew cartoons for a number of chaplains including one of his more unique drawings of Jesus pushing the chaplain on a swing. He says he also drew a lot of dogs and other pets, which lightened their owners spirits.
While the cartoonists were in Kuwait and Iraq, they got a feel for what life is like for a soldier these days. "We were on their schedule, we slept how the soldier's sleep in bunks, and you eat when they eat," Coverly says. Something that really struck him about their lifestyle is "how much down time they have. I think they get bored sometimes and it was nice to give them something to do," he explains. "In return, they wanted to give something back to us and took us on a tour of something everyday," he remembers.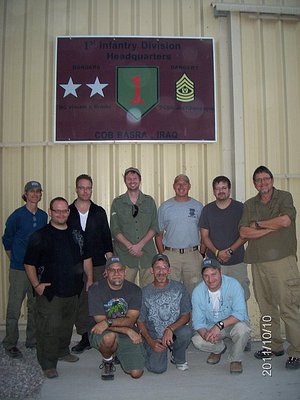 photo courtesy of Dave Coverly
Aside from visiting with the troops in recreation rooms and mess halls, the 10 cartoonists also visited a number of significant sites that evidence major moments in Iraq War history during their own down time. In Baghdad, the group stayed in Saddam Hussein's old hunting palace.
"The only way I can think to describe it is 'faded glamour.' When you first look at it, it seemed really fancy, but when you look closer it wasn't as fancy as you thought. For instance, all of the stuff that was gold was really brass painted gold. I wonder if Saddam knew that?", he wonders. They also visited a few bombed out places that Coverly thinks people should "approach with respect," he says. In his estimate, the former Ba'ath Party Headquarters "is almost like a Tim Burton movie. The ceiling is caved in and goes into a curly-Q. You can see where the bomb went through the ceiling. It's really creepy, but it's also like a museum," he explains.
In general, Coverly felt relatively safe despite being in an active war zone. In Balad, Iraq a mortar round was fired at the facility. It turned out to be a dud. "The first thing our USO tour guide told us when we got to Kuwait is that we are now high-value targets. Kuwait was almost more difficult than Iraq because there had been a rash of kidnappings of foreigners, so the security details were insane," he says. He was not necessarily scared, but "we had to stay really aware," he recalls.
Coverly also found that he felt close to the other cartoonists after sharing such a unique and intense experience together. He thinks the camaraderie the "band of boneheads" must be something like the camaraderie soldiers share with each other. By the end of the trip, the ten men had given each other call signs — nicknames that honor each personality. Coverly got a reputation for being "Zen" like "Ghandi" because he kept his cool during a temporary passport mix up in Kuwait.
The October 2010 trip to Kuwait and Iraq was Coverly's second tour with the USO. His first trip took him to medical hospitals and facilities in the U.S. and Germany. He plans to go again next year, which could possibly be to Afghanistan or somewhere in eastern Asia.
Aside from drawing cartoons, Coverly has also been illustrating children's books with local author Jim Tobin. The pair has already released a vowell sing-along book, titled Sue MacDonald Had a Book (Henry Holt, Inc.) They are finishing up a new children's book, 10 Things You Should Never Do During a Soccer Game that is scheduled to be released in 2011. Find out more about Dave Coverly's "Speed Bump" comic and his other work on his website.