Posted on
Tue, Jan 24, 2012 : 5:21 a.m.
Delving more into songwriting, Emmylou Harris headlining 2nd night of Ann Arbor Folk Festival
By Kevin Ransom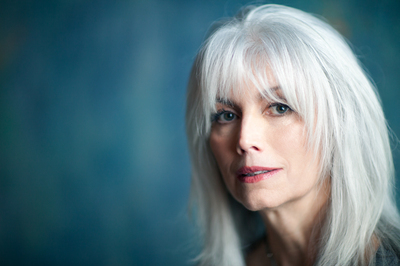 For most of her career, dating back to the late 1960s, Emmylou Harris was known primarily as a gifted interpreter of songs penned by other artists / writers. Her pristine, crystalline voice and unique phrasing often found new possibilities in older songs -- or plumbed depths of emotion that perhaps were not present in the original.
But during the 2000s, Harris began flexing her own songwriting talents again. (Previously, she'd written most of the songs on her 1985 album, "The Ballad of Sally Rose," with her then-husband and songwriter Paul Kennerly). And over the last decade, Harris has blossomed into an insightful, expressive writer in her own right. Each of her last four albums have featured several of Harris's own compositions, and gave us as peek into her own thoughts, perspectives and emotions.
And her latest disc, "Hard Bargain," is her most ambitious, from a songwriting perspective. Harris—who headlines the Saturday-night lineup of the Ann Arbor Folk Festival at Hill Auditorium—wrote 11 of the disc's 13 tracks, three of which she co-authored with Grammy / Oscar-winner Will Jennings.
And a few of the songs are decidedly autobiographical, written about old friends, family members and fellow artists. One of those is "The Road," a finely-detailed, melancholy but grateful remembrance of her relationship with her mentor and country-rock pioneer Gram Parsons, who died in 1973. Harris first gained attention in the early '70s by lending her gorgeous voice to duets with Parsons on his two solo albums, and has recorded several of his songs over the years.
Another, "Darlin' Kate," is a wistful, heart-rending elegy to her dear friend Kate McGarrigle, of the acclaimed and eccentric folk-music duo Kate & Anna McGarrigle. Kate McGarrigle died of cancer about two years ago, and the two had often performed and recorded together; Harris has also recorded a few McGarrigles tracks as well. The spare production of "Darlin Kate," with its plucky banjo and piano, definitely conjures the endearingly rustic vibe of a McGarrigles record.
And on "Goodnight Old World," she crafts an emotionally textured lullabye to her granddaughter, who was born not long before she wrote the song—but it's a bittersweet one, as it juxtaposes a baby's sense of wonder with the weary resignation that sometimes creeps in with late middle age.
PREVIEW
Emmylou Harris
Who: Harris was mostly known as a beloved, gifted, highly-acclaimed interpreter of other writers' songs from the late 1960s until 2000, when she began recording and performing more of her own songs. Also on the bill: Glen Campbell, Nanci Griffith, Joe Henry, Sarah Jarosz, Caravan of Thieves, Seth Glier. Comedian Heywood Banks hosts.
What: Ann Arbor Folk Festival, night two, presenting artists on the more traditional side of the folk spectrum.
Where: Hill Auditorium, 825 N. University Ave.
When: 6 p.m. (doors) Saturday.
How much: SOLD OUT. It's possible a few late seats may be released; check by phone at 734-763-TKTS, in person at The Ark box office, or online at www.mutotix.com.
Still another tune inspired by her own life is "Big Black Dog," a fond paean to her dog Bella, a black-lab mix that she rescued from a shelter. Harris, who runs her own dog shelter on her property near Nashville, now takes Bella and another of her dogs on her tour bus when she hits the road.
Meanwhile, "My Name is Emmett Till" displays Harris' social conscience, and recalls a particularly horrifying chapter in America's history of racial violence. It details the tragic, real-life story of the 14-year-old black youth who was brutally murdered by white men in 1955 in Mississippi for allegedly flirting with a white woman. Till's battered body was found several days later, in a river, but his mother chose to hold an open-casket funeral to underscore the horror of racial violence. Harris tells the story from Till's point of view, and imagines the pleasures and experiences Till might have enjoyed if he'd lived to be an adult.
Up until the mid-90s, Harris deftly and seamlessly wove country, folk, pop, rock and bluegrass styles into her rootsy musical mix. But in the early '90s, country radio became so formulaic and rigid that it began ignoring her. So, in 1995, with "Wrecking Ball," she moved away from her countrified / rootsier side, making a record with not a trace of country-music elements—instead allowing producer Daniel Lanois to create humid Southern Gothic atmospherics.
"I'd been treading water and didn't even realize it," Harris told the New York Times. "Sometimes you have to just go and look completely in a different direction and completely change your environment to break up your logjam."
She has mostly done variations on that kind of production on her last several records. This time out, producer Jay Joyce employed a small combo—himself on electric guitar, Giles Reaves on piano, pump organ, synthesizer and percussion, and Harris on acoustic guitar. The result is an album rich with dreamy, shimmery atmospherics, as Harris often sings in the muted, delicate, almost whispery fashion that she eased into during the "Wrecking Ball" era.
On the topic of turning to her own life experiences, friends, family and long-ago remembrances for inspiration when writing the songs for "Hard Bargain," Harris mused: "You get to a certain age when the life that has preceded you is going be longer than what is ahead of you. You just accept it — this is where you are at this point in your life. It wasn't like there was a theme in my head when I sat down to write. The ideas came out of what was happening in my world."
This isn't the first time she's written a song about Parsons. Her 1975 hit, "Boulder to Birmingham" was about Parsons.
"That one was written in the throes of deep grief and shock, after losing someone that quickly and unexpectedly," Harris told Rolling Stone. "So, that was just a way of dealing with it, whereas now, you're looking back from a great distance with a great deal of affection….It's a thank you to him and kind of a tip of the hat to the universe to say 'I'm still here and I was given all these wonderful things because of that meeting with this person.'"
Harris says she is sometimes surprised by the pensiveness of her own songs.
"I don't believe in this idea that we're going to be happy, happy people all the time and if we don't we're going to take a pill, or the idea that being melancholy or being sad is an unnatural state," she told the Times. "But I actually have a pretty good life, and I'm a pretty upbeat person for the most part."
Folk Festival headliners generally perform toward the end of the program. Others on Saturday's bill are Glen Campbell, Nanci Griffith, Joe Henry, Sarah Jarosz, Caravan of Thieves and Seth Glier.
Kevin Ransom, a freelance writer who covers music for AnnArbor.com, first wrote about Emmylou Harris in 1991. He can be reached at KevinRansom10@aol.com