Posted on
Wed, Nov 23, 2011 : 5:58 a.m.
EMU exhibit finds surprising links between Iceland and Detroit
By John Carlos Cantu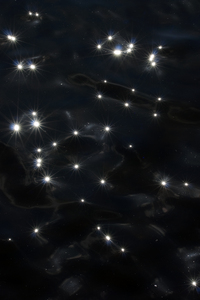 The Eastern Michigan University exhibit "Island: 22 Artists on Iceland" is not merely about an island—it's more a frosty state of mind.
As the gallery statement tells us, the exhibit—also currently on display at Detroit's innovative Cave Gallery—has been "conceived as a 'response show' that highlights the linkages between Iceland and Detroit (by) revealing juxtapositions as well as commonalities between the island, the economy, and the people.
"Iceland evokes a sensibility that is simultaneously unique and universal. The nuances of its location, culture, history, and people are increasingly captivating the world as more and more people flock to it as a travel destination.
"Recent events, including a series of natural environmental disasters and a massive banking and resulting economic collapse in 2008-2010, have created an interesting series of parallels and contrasts with events locally in southeast Michigan as both areas struggle and adapt to their changing environments."
Curator and EMU Associate Art Professor Amy Sacksteder says in her personal statement about the show, "the captivating landscape, cultural and historical specificity of Iceland finds parallels with Detroit in many ways. There are striking similarities to the economic collapse, resulting revolution, and ensuing regeneration. The artists in the exhibition are very much keyed into this duality."
The show certainly represents a Nordic-tinged existential sensibility whose coolness is reflective of this wind-tossed country. There's a dramatic distancing in many of these works that demands they be taken on their own nippy terms. In short, one cannot seemingly take the ice out of "Island."
Talents on display here come from Iceland and the U.S., as well as Norway and elsewhere. Norwegian Hege Dons Samset and American Naomi Falk set the exhibit's tone with their video art and installation art taking up a large amount of space in the heart of EMU's University Gallery. Samset's oversized "Worker Island" video features a solitary woman repetitively brushing lava rocks in an eerie manner reminiscent of Hiroshi Teshigahara's classic 1964 "Woman in the Dunes." Futile is too kind a word to adequately describe what she's doing, and where she's doing it. But there can also be no doubting her single-minded intensity.
College of William and Mary gallery coordinator Falk, on the other hand, set up shop in the University Gallery during the exhibit's recent Nov. 2 opening reception. Her gallery installation/performance art "Verkja" consists of a workman's shirt hung in a far corner of the gallery in front of a wheelbarrow filled with wood chips. The chips were filled into sacks cut from denim trousers, sewn together, and tossed in a pile until they form a large three-dimensional levee in the gallery's center.
Princeton's Jessica Frelinghuysen has contributed the airiest work on display with her "Vindsafn/Library of the Wind" installation. While spending last summer in Iceland, Frelinghuysen took the time to bottle 11 glasses with Icelandic air. Her installation consists of a map showing us where each bottle was captured (for example, on June 4, 2011, the air at Reykjavik was coming in from the southwest) with the bottles themselves set forth on a table display. "Vindsafn" is portable, aerial, and quite nearly invisible—what more can be said?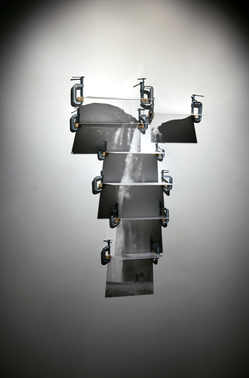 University of Montana printmaker
Nicole Pietrantoni
has contributed one of the most enigmatic artworks on hand through her "This waterfall is falling for you." This exceedingly clever mixed-media creates, through its print shadows, a near-diaphanous waterfall. Easily one of "Island's" highlights, Pietrantoni's work is so ethereal, it almost doesn't exist.
Leave it to Icelander Una Baldvinsdoottir, however, to have the show's last laugh. Her "Together as One" sweater made out of assembled secondhand sweaters is literally fit only for a giant. This humongous yellow jersey crafted from many, many stitched sweaters hangs on the University Gallery's back wall, silently saying everything one needs to say about her country's blustery weather. Just like southeast Michigan's equally chilly winter, Baldvinsdoottir sweater leaves only one comment in mind: Be prepared, big time.
"Island: 22 Artists on Iceland" will continue through Dec. 12 at the Eastern Michigan University Student Center University Gallery, Room 210, 900 Oakwood St., Ypsilanti. Gallery hours are 10 a.m.-5 p.m. Monday and Thursday; 10 a.m.-7 p.m. Tuesday-Wednesday; and 10 a.m. to 2 p.m., Friday-Saturday. For information, call 734-487-0465.