Posted on
Sun, Jan 29, 2012 : 5:01 a.m.
Encore Musical Theatre Company now spending its evenings in 'Smokey Joe's Cafe'
By Jenn McKee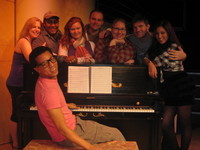 Photo courtesy of Encore Theatre
After filling the
Encore Theatre
stage with the many, many residents of Bedford Falls in December—by way of an original stage musical adaptation of "It's a Wonderful Life"—the Encore team is now scaling back with a smaller show, "Smokey Joe's Cafe."
But smaller doesn't necessarily mean easier. The popular revue contains almost 40 pop hits of the 1950s, mostly by songwriting super-duo Jerry Lieber and Mike Stoller ("Charlie Brown," "Searchin," "Hound Dog," etc.), and is dance-heavy.
"It's the biggest show, in terms of choreography, that we've done, outside of 'Club Morocco' and 'Forever Plaid,'" said director/choreographer Barb Cullen. "Every number has choreography. Some of it is pretty challenging, and much of the style is this 1960s stuff that younger people today aren't used to doing. But it's so much fun. And it's high energy. I got an e-mail message from an excited cast member who said, 'I lost 5 pounds in the first week of rehearsal.'"
This isn't Cullen's first stab at "Café." In fact, in a past production, she directed Encore co-founder (and Broadway performer) Dan Cooney.
But when approaching a show for a second or third time, does Cullen revisit staging choices that worked before, or does she try to put a completely new spin on it?
"This time, I'm basing ('Café') literally on who's in this cast and what they can do," said Cullen. "Yes, I'll do some things I know will work for sure, and adjust it some, but I also really try to honor the piece, too, and the time period."
One thing that sets Encore's production apart from Cullen's past experience is its proscenium set-up—previously, she staged "Café" in-the-round—and her choice to, this time, incorporate steps and different levels into the set, rather than working on a flat stage.
Even so, Cullen believes that no matter how the show is staged, audiences tend to have one response in common.
PREVIEW
"Smokey Joe's Cafe"
Who: Encore Musical Theatre Company.
What: In an idealized 1950's setting, the classic themes of love won, lost and imagined - set to music by Lieber and Stoller - blend with comic set pieces and slice-of-life emotions in this classic revue.
Where: Encore Theatre, 3126 Broad St., Suite A in Dexter.
When: Thursday at 7 p.m., Friday at 8 p.m., Saturday at 3 and 8 p.m., and Sunday at 3 p.m., February 2-26.
How much: 734-268-6200 or http://theencoretheatre.org.
"What seems to happen … is they pick somebody (they) relate to in the show and watch that person all the time," said Cullen. " … Because there's no dialogue, the characters are defined by the solos that they sing. So people in the audience follow 1 or 2 people closely because they think, 'I was like that,' or 'I had a friend like that.' There's always the person that provides the comedy, somebody else that's the romantic, one person is the sad one … "
"Café" premiered on Broadway in 1995 and received multiple Tony Award nominations. For Cullen, the show's casting challenge involved finding 8 performers who could not only sing, dance, and act, but also deliver the show's vocals in a style that's in keeping with the '50s era.
Yet Cullen believes she found the right people. And while she knows some theatergoers shy away from revue-style shows, Cullen said that "Cafe" is "much more than a revue, in that each of the characters has a journey, and it's about their relationships with each other. … It first starts in the neighborhood, where these characters grew up together. … They're definitely not the same age, but in my mind - and what I've told the cast is - they all hung out at Smokey Joe's Cafe, and after 5 years, they meet up and go back in time to when they were younger. … After everything is said and done, these are the friends they'll always fall back on."
Here's a video preview of the show's first full-cast vocal rehearsal:
Jenn McKee is the entertainment digital journalist for AnnArbor.com. Reach her at jennmckee@annarbor.com or 734-623-2546, and follow her on Twitter @jennmckee.