Posted on
Sun, Jun 24, 2012 : 1:11 p.m.
See brand new plays at the Fireside Festival of New Works; hear music
By Ann Dwyer
ENTERTAINMENT
As part of the Ann Arbor Summer Festival, Arbor Brewing Company will host the "33 1/3 Reading/Listening Series, Mondays through July 2. 7 pm. This reading-and-listening party features local writers, journalists and music aficionados sharing excerpts from Continuum's 33 1/3 series of books about classic rock albums, followed by guest DJs from WCBN mixing from the songbook of that evening's celebrated artist. This week, Ivan Kral from the Patti Smith Group reads from "Horses," by Philip Shaw about the Patti Smith album. No admission charge; price of purchases. ABC is at 114 E. Washington St., Ann Arbor. 734-213-1393.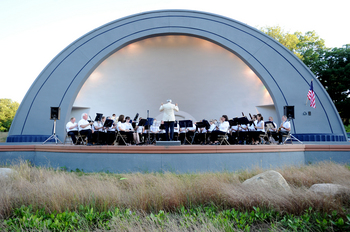 Melanie Maxwell | AnnArbor.com file photo
MUSIC
There will be a "Linkin Park One Night Concert Event" at Rave and Quality 16 cinemas. 7:30 p.m. Linkin Park will celebrate the release of their new album, Living Things, by bringing their live show to nearly 500 movie theaters nationwide. Tickets for the event are available at participating theater box offices and online at www.FathomEvents.com. Rave is at 4100 Carpenter Road, Ypsilanti. 734-973-4823. Q16 is at 3686 Jackson Road, Ann Arbor. 734-623-7469.
THEATER
The "Fireside Festival of New Works" runs Sunday through Wednesday at the Performance Network Theatre. Sunday, 7:30 p.m. All other days, 7 p.m. This festival of staged readings will feature new works by four playwrights, including Network regulars Joseph Zettelmaier and Kim Carney. Tickets are pay-what-you-can (suggested donation $10) and can be ordered by calling 734-663-0681, online at www.performancenetwork.org or by coming to the theatre one hour before a performance. The PNT is at 120 E. Huron St., Ann Arbor. 734-663-0681.
FILM
The "EMU Campus Life Summer Film Series" continues at the Student Center Auditorium on the EMU campus on Tuesday. 6 p.m. This week, see "Jeff Who Lives at Home" (R). Dispatched from his basement room on an errand for his mother, slacker Jeff might discover his destiny (finally) when he spends the day with his brother as he tracks his possibly adulterous wife. Free and open to the public. The SCA is at 900 Oakwood St., Ypsilanti. 734-487-1157.
FILM
The Summer Classic Film Series continues at the Michigan Theater with "Bringing Up Baby" on Tuesday. 7 p.m. Katharine Hepburn and Cary Grant star in this inspired comedy about a madcap heiress with a pet leopard who meets an absent-minded paleontologist and unwittingly makes a fiasco of both their lives. General admission: $10. Students, seniors: $8. Michigan Theater members: $7.50. For more information visit www.michtheater.org. The theater is at 603 E. Liberty St., Ann Arbor. 734-668-8397.
MUSIC
The "Gandy Dancer Courtyard Jazz Series" returns on Wednesday. 6-9 p.m. This week see Ramona Collins. Along with the regular menu, there will have a Courtyard Menu, which features mid-priced sandwiches and appetizers. No cover. The Gandy Dancer is at 401 Depot St., Ann Arbor. 734-769-0592.
MUSIC
The Ann Arbor Civic Band will start its "Summer Concert Season" at the West Park Band Shell on Wednesday. 8 p.m. Enjoy great music in the great outdoors. This week's theme will be "At the Movies," so bring your popcorn. William Gourley conducts. Free. West Park is at 215 Chapin St., Ann Arbor. 734-994-2780.