Posted on
Mon, Mar 26, 2012 : 5:58 a.m.
FestiFools takes over April Fool's Day weekend, adds new benefit show
By Jennifer Eberbach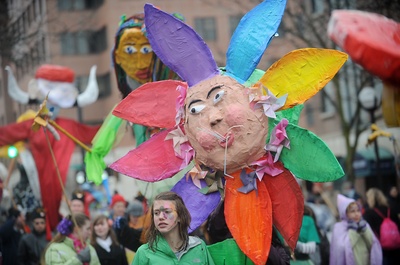 Melanie Maxwell | AnnArbor.com file photo
Springtime foolishness returns to the streets of Ann Arbor this April Fool's Day weekend. The sixth annual giant puppet parade
FestiFools
and related events happen March 30 through April 1. For the first time, there are three different events where you can join in or just watch others act a fool.
Locals and University of Michigan students have been hard at work creating huge papier-mache sculptures—larger-than-life puppets and big, colorful masks—that will dance up and down the streets of downtown during the main FestiFools parade, on April 1 from 4 to 5 p.m.
FestiFools could not happen without the help of volunteers from the community and U-M art students who construct and paint the massive puppets. Anyone can stop into the FestiFools studio space to help papier-mache and paint during their open studio days. The studio is open Saturdays and Sundays from 10 a.m. to 5 p.m. leading up to the big events. It is located in the U-M Campus Safety Services Building, at 1239 Kipke Dr., Room 1309. The doors to the building are locked over the weekend, so call the studio ahead and let them know you are coming, at 734-763-7550.
The whimsical festivities actually begin on March 30 with the 2nd annual installment of FoolMoon, an additional parade featuring handmade "luminaries." Participants will walk with paper and wire lanterns, from dusk to midnight on Washington Street.
After a highly successful debut last year, FoolMoon is now a huge part of the event weekend. Last year, its first year, thousands of people showed up to watch and participate in the parade. Just like with FestiFools, anyone can join in the fun by making their own luminary and dancing it down the street.
Do-it-yourself luminary kits are available for purchase at local stores (Ace Barnes Hardware, Downtown Home & Garden, Sweetwaters on Washington). These have everything you need to make a speech-bubble shaped lantern, which is lit from inside by an LED. You can decorate yours however you want. "You can even put shadow puppets inside, which is really playful," Tucker suggested.
FoolMoon begins at 5 p.m. with "5 o'clock shadow," a pre-party with DJ music and Salsa dancing in the street before the parade kicks off. Also at the parade, the Third Coast Kings will fill the air with music. Grizzly Peak brewers are making a special Fool Brew for the event.
Local performance art collaboration Spontaneous Art, which is lead by Chris Sandon, Trevor Stone, and Natalie Berry, has been commissioned to perform "Robot Games" at FoolMoon and FestiFools.
Ann Arbor's Downtown Development Authority commissioned FestiFools to make luminaries for all of the parking meters around the event, which Tucker is excited to see. "They will frame the event with light," he says.
For the first time ever, there is a third event, Foolish Acts. This new benefit concert will feature live music, performances, and crowd interaction at the Blind Pig, on March 31 (18+; doors at 9 p.m.). The new event is their first indoors. Appleseed Collective,Third Coast Kings, LMFA20 and Funky Farmer will perform the benefit.
Orbit Hair Design and Massage will come out again to do flamboyant makeovers in the street during the parades. And they might make up some "luminescent ladies" to attend the Blind Pig benefit show.
Theater club students in the Lloyd Hall Scholars Program are planning to "attack" attendees with face makeup, so that as many people as possible will be foolishly made up by the end of the night. "They are going to surround people and do their faces up," Tucker explained.
Tucker is excited to have events going on all weekend. "We've been looking for meat to go in the sandwich we've created with FoolMoon on Friday and FestiFools on Sunday. We've got the bread on both side, be we didn't have Saturday covered. Now with three events, we're taking the whole April Fool's Day weekend and making it about FestiFools," he said.
Upon a visit to the FestiFools studio, volunteers working away had many stories to tell about what the event means to them.
Retired hotel interior designer and artist Peggy Arden, from Ann Arbor, worked on a couple of eagle masks, a tiger's head, and a large claw. "Last year, my grandchildren and I participated in the FoolMoon luminary parade. We made a seahorse, dragonfly, fish, robot, and I still have them hanging up at home. This year, I decided to volunteer my time to work on some FestiFools puppets. And I'm also helping one of my grandsons build a Chinese dragon with lights in it for FoolMoon," she said.
Pat DeLamielleur of Ann Arbor, who has been oil painting since her retirement, remembered her first exposure to FestiFools six years ago: "I was the parade's first year. I went to the old warehouse on Felch with my mother, who is now in her 100th year. She was 94 and in a wheelchair, but they said she could be in the parade. They gave her a mask and she joined the parade in her wheelchair. She looked at me and said, 'And I thought I'd done everything!'"
As in the past, FestiFools and FoolMoon have a suggested theme. As always, it complements U-M's College of LSA year-long theme. This year's theme is language.
Tucker thinks this year's theme is a fun challenge. "Language doesn't evoke any certain image. It's pretty abstract. It'll be challenging to put the idea into visual form. We're looking forward to seeing what people come up with," he said. Some of the things people have been making so far include a gramophone, a carrier pigeon, cell phones, iPads, hieroglyphs, brail, and letters. "People are interpreting it as any form of communication."
That does not mean that puppet and luminary makers have to follow it. People come up with all sorts of wild ideas. The theme serves as a source of inspiration for those who need it.