Posted on
Sat, Jun 4, 2011 : 3 p.m.
'Five Year Engagement' shoots nighttime scene in Ypsilanti
By AnnArbor.com Freelance Journalist
By Jordan Griffin
Around 10 p.m. Friday the crew of 'The FIve Year Engagement'—the Jason Segel / Emily Blunt romantic comedy shooting in the area—began filming just outside Beezy's Cafe. Use of the cafe itself, as well as building interiors down the block in both directions, served as lighting diffusers to illuminate the street outside.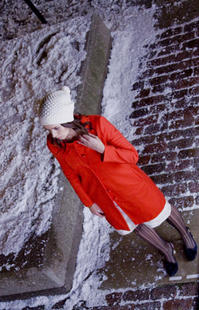 Jordan Griffin | For AnnArbor.com
Beezy's owner Bee Mayhew said, "Everyone was super nice," and added, "I was here until 4:45 (this morning). They were taking lights down by 5:30 and cleaning the streets by 7 o'clock."
A woman in a red hoodie, of similar stature to Blunt, ran down the sidewalk toward Michigan Avenue, followed by a slew of cameras and sound equipment. Tape markers were affixed to pivotal points on the sidewalk, and lighting and sound were checked. After details were finalized, a white Cadillac rolled up to the scene.
Actress Emily Blunt was ready for the first take. The scene appeared to be of Blunt's character chasing after (presumably) her fiancee and desperately calling out "Tom! Tom!"
After about 6 takes, varied by camera position, the scene shifted. As the cameras drew away from Blunt's character, left in the dust, a group of shirtless, painted fraternity boys emerged from the alley by Pub 13 cheering and holding a taxidermic sailfish as they dashed across the street. Blunt shuffled along the sidewalk with a noticeable limp, which was explained during a second round of shooting at a new location on the northeast corner of Pearl and Washington Streets.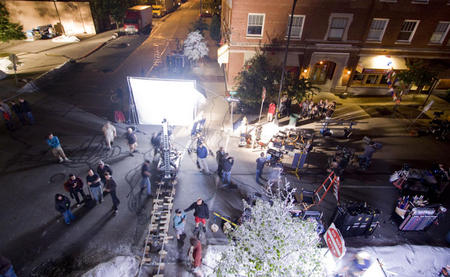 Jordan Griffin | For AnnArbor.com
The setup there was much more elaborate, as there weren't any shop windows to set the scene aglow. Lights were placed behind a massive diffuser, and were situated behind the camera, which was mounted to a cart on a track and moved backward as the scene unfolded. In this part of the chase sequence, Blunt's double ran frantically north toward Pearl street only to collide with a man who is riding a Segway. He was thrown off, and tumbled to the curb and (was supposed) to land on a soft mat placed on the sidewalk. Applause and laughter came from the crowds of people watching off camera and a crew member said, "I feel good about that one".
Filming at the final location of the night began around 4 a.m., just outside Pub 13. Here the Segway rider came from the same alley the frat boys did earlier in the evening, and the collision launched the man into Washington Street. At 5:18 a.m., director Nicholas Stoller, cast and crew completed filming.
Two days of setup and nearly 8 hours of shooting produced what should be a hilariously memorable 60-second-or-so scene in the movie. I know I'll be one of many Ann Arbor and Ypsilanti fans at the theater.
Jordan Griffin works in Ann Arbor and resides in Ypsilanti.