Posted on
Fri, Jul 1, 2011 : 10 a.m.
A frugal Friday at downtown Ann Arbor's Jerusalem Garden
By Mary Bilyeu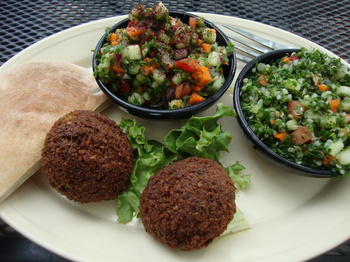 Mary Bilyeu | Contributor
Well, today is
Frugal Floozie Friday
, and we're going out for dinner — this time for Middle Eastern food at
Jerusalem Garden
in downtown
Ann Arbor
.
My BFF Wendy and her daughter, Alison — home for the summer after an exciting term interning at the State Department — joined me for an adventure one recent evening. We had such a fabulous time that this will be a two-part escapade completed next week — same Bat time, same Bat channel!
We wanted to attend the first night of Top of the Park. So we started with dinner before meandering over to the concert a few blocks away.
Jerusalem Garden is unfortunately located right in the midst of the enormous and seemingly endless project to construct an underground parking structure downtown.
There is a sign saying that the two restaurants on that block are still open, but with parking nonexistent and the street blocked off, it's not a particularly enticing location. (You can even find a Facebook page supporting the restaurants: Keep Earthen Jar and Jerusalem Garden Open. Go "like" it.)
So we were on a mission to show our love.
We sat on the shaded patio on a perfect summery evening, a small oasis from the dust and consternation of the construction site, and were happy to see three other tables filled in addition to watching numerous customers walk in and then leave with take-out orders.
We were surprised at how many options were available within the very strict $5 per person budget for Frugal Floozie Friday: an assortment of salads and soups, spinach and meat pies, and eight sandwiches featuring falafel or hummus or lentils and rice. And, of course, desserts were within our price range, as well.
I decided upon the small falafel plate (pictured at the top of the post), which would have been $3.25 with one sampler side dish. But since I could choose a second side dish and bring my total up to only $4.75, that's what I did.
I chose tabouli (on the right) and my favorite, fattoush (on the left). Wendy and Alison decided to split the Jerusalem Burger for $5.75, described on the menu as: "Ground beef & lamb mixed with onions, parsley and spices baked in grape leaves, wrapped with hummus."
As you can see from the pictures, we absolutely got a huge bang for our proverbial buck — we were served an incredibly generous amount of food! And it was exceptionally good food, too. Wendy loved the burger, and kept remarking how excellent it was and how enormous just her half of it was.
My falafel patties were perfectly cooked: crunchy exteriors encasing a crumbly and flavorful filling. The salads were crisp and fresh with subtle flavors, rather than having been overdressed or too acidic (as they are at some places).
Our waitress very graciously offered me a second piece of pita bread, which I happily accepted. And the three of us enthusiastically polished off our entire dinner, thoroughly enjoying our feast.
Whereas last week's featured establishment, Schakolad, was more about finding a sinfully seductive treat within the Frugal Floozie Friday price limit, going to Jerusalem Garden was about finding great value for the expenditure. An entire dinner for $5 or less? What a fabulous deal!

Jerusalem Garden
307 S. Fifth Ave.
Ann Arbor
734-995-5060

Mary Bilyeu has won or placed in more than 60 cooking contests and writes about her adventures in the kitchen. She was thrilled to have her post about Scottish Oatmeal Shortbread named as one of the daily "Best of the Blogs" by the prestigious Food News Journal.
Go visit Mary's blog — Food Floozie — on which she enthuses and effuses over all things food-related. Her newest feature is Frugal Floozie Friday, seeking fun and food for $5 or less ... really! Feel free to email her with questions or comments or suggestions: yentamary@gmail.com.
The phrase "You Should Only Be Happy" (written in Hebrew on the stone pictured in this post) comes from Deuteronomy 16:15 and is a wish for all her readers as they cook along with her ... may you always be happy here.