Posted on
Wed, Jul 28, 2010 : 6 a.m.
A new recipe every day for an entire year: celebrating Peggy Lampman
By Jessica Webster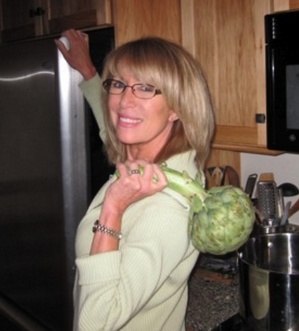 Peggy Lampman
July marks the one year birthday of AnnArbor.com. While we take a moment to look back at what we have learned in the past year, we would be remiss if we didn't also take some time to celebrate our most steadfast and reliable contributor. For an entire year, Peggy Lampman has imagined, created, photographed and blogged about a new recipe every single day.
Think about it. Not once in the past year has Lampman had the luxury of just ordering a pizza or picking up some take-out Chinese. Instead, she taught us how to make our own, with detailed - and sometimes humorous - instructions. Along the way, we've gotten to know Lampman through her stories and recipes. We've made pizza with her grandkids, celebrated holidays with her friends and focused on healthy living with her husband Richard.
Beginning this week, Lampman is going to take a little more time for her family and friends. We'll still get a new dinnerFeed post every weekday, with tips on getting meals on the table during the busy work week, but she's giving herself a break on the weekends.
To mark the occasion of the anniversary of a full year of daily AnnArbor.com posts, Peggy is sharing some of her most frequently asked questions from readers with us, to give us a little more insight into what makes her tick.
Q: Why did you start writing this?
A: I'm sure I have some sort of compulsive blogging disorder that has a clinical name, but I'll save that for a later post. 
I was born into a family that considers good cooking to be the highest of art forms - I've enjoyed delicious food since my right hand could handle a spoon. Following, inventing and sharing recipes has been my passion ever since that same hand could grasp a chef knife. 
I've been cooking professionally since 1981. Through the years, ragged notebooks morphed into computer files: testimonials of a life spent, for the most part, in a kitchen. I wanted a platform to organize my notes and recipes. Writing a daily food blog - without repeating a recipe - provided the required discipline.
The first day AnnArbor.com went "live," I was 28 days into this personal commitment. I promised readers I would record what I was eating, complete with a photograph and recipe, for one full year - weekends and holidays included, no vacation or sick-time allowed. I began the blog on June 28, 2009, and Friday, July 30, 2010, I'll begin taking weekends off.

Like so many people, my happiest memories are those spent cooking and eating with family and friends. I finally have a permanent record of my favorite foods and recipes to reference, to build upon, and share with my family and community.
Q: Did you get your idea from the movie "Julie and Julia"?
A: I began my blog before seeing the movie, but read the book when it was first released. I loved the idea, especially the dedication to subject and the rhythm that the author, Julie Powell, developed when posting her daily blog after recreating a Julia Child recipe.

Writing and cooking are like brushing my teeth; I know lots of daily bloggers who feel the same. If I allowed myself to write only three recipes a week, I may have quit writing after a couple of months.
Q: Do you ever get tired of writing about food and coming up with new recipes every day? Is it difficult not to have a day away from the computer?
A: No. I am fortunate to have found a medium that utterly engages me. I am passionate about food, particularly regional food. I am also fascinated by other people's recipes and recording their food stories.

My husband, Richard, is occasionally annoyed by my constant companion, "Mac" (aka: the laptop). He has not, to date, developed a resentment for "Viking" (aka: the stove). The meals are his reward for keeping a lid on it!

My children are either in college or graduates, trying to find their way in a difficult job market. I don't know if I could have pulled this daily blog off if they were still living under our roof. They share my "food gene," however, and we tend to cook away the problems that life regularly dishes out.
Q: What are your challenges to cooking and posting daily?
A: One challenge is convincing Richard that food meant to be served hot, is also "delicious" luke-warm or cold. We eat what I photograph, and while getting the plate "ready for prime time," it cools down. My friends and family think it's all quite novel, and enjoy watching me compose and take a photo of what we're about to eat - they don't have to live with it!.

Power outages and irritating wireless Internet connections are the Darth Vader of this daily blog. Eating well has always been a family priority, so making and officially recording the recipe to share is always a pleasure.
Q: Why don't you refer to yourself as "chef"?
A: I am not a chef because I have not undergone the rigors of chef school. I've taken a good amount of cooking classes from culinary icons, have worked in the trenches for 30 years with talented chefs, but I never went through the demanding training required of chefs to receive their toque.

I did, however, graduate from the University of Michigan with a communications degree. My intention at the time was to become a writer and photojournalist. My first job "out the hatch" in New York, circa 1978, was as a writer and photographer at a public relations firm.

America, however, was undergoing a culinary renaissance, and the bourgeoning Manhattan food scene is what cranked my cranker. I returned to Ann Arbor, my much-missed college town, and opened a specialty food store in 1981.
Q: Are you going to write a cookbook?
A: I've written one! There are over 400 recipes online since June 28, 2009. The challenge of making every day's recipe as easy and delicious as possible - and clearly communicating to readers potential stumbling blocks with the recipe - was my main concern. The last thing I want or need is to go through is the turbulence of trying to get a book published.

The publishing industry, in fact, has changed so dramatically, I'm not sure how to even begin. Today you also have to be really good at selling yourself via online social networking. I know what I'm supposed to be doing as far as networking, I just can't seem to invent the time to do it.
Q: What's your favorite recipe?
A: What I'm making that day. I only choose recipes I have experience with and I hope will turn out well. My life's motto: Eat well....Stay hungry!
Jessica Webster coordinates Food & Drink and Books coverage for AnnArbor.com. Reach her at jessicawebster@annarbor.com.