Posted on
Tue, Mar 6, 2012 : 2:30 p.m.
A quick, flavorful potato curry for a busy night
By AnnArbor.com Staff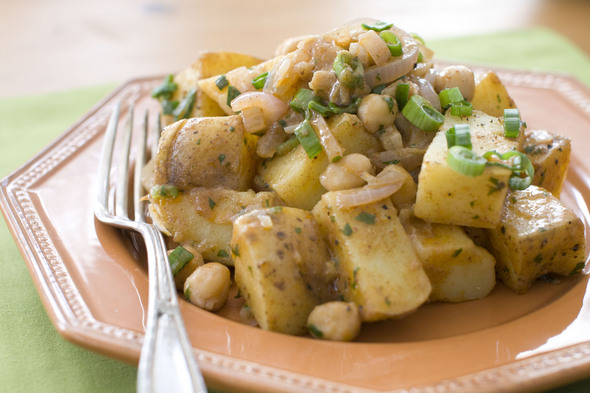 AP Photo | Matthew Mead
J.M. HIRSCH, AP Food Editor
On busy weeknights, we take our dinner shortcuts wherever we can find them. But this doesn't require sacrificing healthy home cooking.
Make smart choices — as in this recipe for red curry potatoes and chickpeas — and you can have a great from-scratch dinner on the table in under 30 minutes.
The potatoes are a great example. I speed up the cooking by microwaving them for 5 minutes before adding them to the pan. This saves a little time at the stove, requires no extra effort and doesn't compromise the flavor or texture of the finished dish.
I also turn to jarred Thai red curry paste to provide the bulk of the flavor for the dish. This widely available paste (check the grocer's international aisle) packs big, bold flavor that has kick, but not a lot of heat. And it marries perfectly with starchy ingredients, such as the potatoes and chickpeas.
And for deep, lush and totally effortless flavor, I use canned coconut milk for the liquid. Looking to cut fat? Don't hesitate to use low-fat coconut milk. It won't be quite so lush, but the flavors will still be great.
To make the meal even more substantial (and to stretch it to feed six people), add the meat from a rotisserie chicken at the same time as the potatoes.
RED CURRY POTATOES AND CHICKPEAS
Start to finish: 20 minutes
Servings: 4
3 large Yukon gold potatoes, cut into 1-inch chunks
1/4 cup water
1 teaspoon ground cumin
1 teaspoon cinnamon
15-ounce can coconut milk
1 tablespoon Thai red curry paste
15-ounce can chickpeas, drained
1 small red onion, thinly sliced
Salt and ground black pepper, to taste
1/4 cup chopped fresh cilantro
1 teaspoon cider or white vinegar
2 scallions, finely chopped
In a medium microwave-safe bowl, combine the potatoes and water. Microwave on high until the potatoes are partly cooked, about 5 minutes.
Meanwhile, in a large dry saute pan over medium-high, toast the cumin and cinnamon for 1 minute. Add the coconut milk and curry paste, then bring to a simmer.
Add the chickpeas and red onion, then return to a simmer. Once the potatoes have cooked, add them to the pan, toss, then cover, reduce heat to low and simmer for 12 minutes.
Season with salt and pepper, then stir in the cilantro and vinegar. Serve topped with scallions.
Nutrition information per serving (values are rounded to the nearest whole number): 520 calories; 220 calories from fat (40 percent of total calories); 24 g fat (20 g saturated; 0 g trans fats); 0 mg cholesterol; 68 g carbohydrate; 13 g protein; 12 g fiber; 560 mg sodium.