Posted on
Thu, Dec 3, 2009 : 10:02 a.m.
All the Brews Fit to Pint: Jack Frost nipping at your beer
By David Bardallis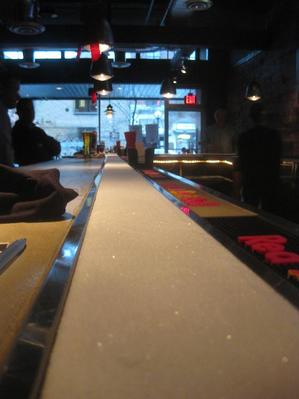 David Bardallis | Contributor
With Jack Frost now nipping at our collective nose, sometimes a cold beer just doesn't sound so good.
Wait, what am I saying? A cold beer always sounds good. A beer served at a proper, cool-but-not-cold temperature sounds even better. Sure, hot toddies and whatnot can help warm up your innards, but they just aren't as delicious and refreshing as your old pal, beer. Am I wrong?
Anyway, there's plenty afoot in the world of local brew. Your chilly Week in Beer lies ahead.
Today Feeling a little adventurous? Milan's Original Gravity Brewing, 440 County, is tapping a small-batch brew at 6pm called Pastrami on Rye Amber Ale. Brewer Brad Sancho explains: "Very interesting and delicious beer brewed using many of the ingredients and flavor components found in one of my favorite meats! Smoked malt, rye malt, caraway seeds, black peppercorns, coriander, juniper berries, onion, garlic, and lots of love."
Friday, December 4 From 4-7pm, the Whole Foods Market at Cranbrook offers its semimonthly Michigan beer tasting, and this time beers from Short's Brewing are featured. Draft pints are $3; 4oz. samples are $1 each. And if you'd rather try something out of a bottle, Whole Foods kindly waives the corkage fee for this happy-hour event.
If you're downtown for the holiday Midnight Madness, drop by the Farmers Market for the first annual Kerrytown KindleFest. There aren't a ton of details regarding this event, but artists, farmers, warming fire pits, and beer are all apparently involved. I don't need to know any more, really. Do you?
Saturday, December 5 The much-anticipated Winter Shadow Art Fair comes to the Corner Brewery, 720 Norris, in Ypsilanti! I'll just shamelessly paste the details from Corner's site: "One day, 40 local artists, 9000 gallons of beer. Find unique gifts for the holidays, support local artists, listen to great music, and do it all with a beer in your hand." Runs from noon to midnight. Buy indie in Ypsi, baby.
Has it been a year already? Yes, it has, and Plymouth's Liberty Street Brewing Company, 149 W. Liberty, is celebrating its first birthday with a party. From 4-8pm, enjoy a buffet of "some of the finest BBQ" (prepared by local beer maniac Mike O'Brien) and a special small-batch brew called Liberty One, a robust porter. Tickets are $10 and include dinner and one beverage of your choice. Live music and the opportunity to win a one-year growler refill subscription round out what sounds like a fabulous evening.
Tuesday, December 8 From 3-7pm at Ypsilanti's Corner Brewery, 720 Norris, the Winter Farmers' Market rolls on inside the brewery. Come out for an extended happy hour and to celebrate fresh, local food. Call Growing Hope at 734-786-8401 if you are interested in being a volunteer or vendor.
Wednesday, December 9 Head to Arbor Brewing's Tap Room at 8:30pm for WCBN's free movie night. The feature film: This Is Spinal Tap. A Christmas classic! Well, a classic, anyway. Grab a beer and crank it up to 11, mister.
If you want to warm up for the movie, Bar Louie, 401 E. Liberty, has $3 pints of selected beers from Arcadia Ales all day long.
The Rat Pad (small-batch) release at Corner in Ypsilanti is a Scotch ale. Sadly, your correspondent has no other information on this beer other than it will be tapped, as Rat Pads always are, at 6pm.
Thursday, December 10 Original Gravity Brewing is hosting a fundraiser to benefit Pints for Prostates, a group dedicated to spreading the message about the importance of regular prostate cancer screening. Tickets are $10 and include a showing of Beer Wars, a documentary that confirms what you already suspected: Big, established companies that make mass-produced swill use every dirty trick in the book to squash little-guy competitors who make actual good beer. A lifetime OG "Brew Crew" membership will also be raffled off.
Holiday beer tasting at Arbor Brewing from 7-9pm! 'Tis the season for sampling from a couple dozen special winter brews from around the world, enjoying warm chow from the buffet, and, if you're lucky, winning some raffle prizes! Rumor has it there may be a rare appearance from the elusive Kwanzaa Claus as well. Tickets are $25 in advance; $30 the day of. Call 734-213-1393 to order by phone.
Notes on the Napkin
That's all the brews fit to pint for this week. Until next time, keep Jack away from your frosty one. Cheers!
David Bardallis is a freelance writer and editor, blogger, bon vivant, and man about town. Visit his Web site, DavidBardallis.com, to engage his services or read his latest. Email your beer-related thoughts to annarborbeer@gmail.com.