Posted on
Mon, Mar 5, 2012 : 12:30 p.m.
An updated Ann Arbor area CSA guide for 2012
By Kim Bayer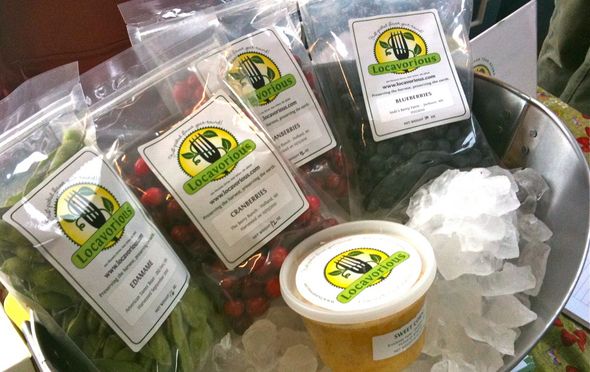 Photo | Kim Bayer
Last year I wrote a Guide to Choosing Your CSA Farm Share that describes the CSA concept (a farm membership that usually includes a weekly box of locally grown produce from about June through October) and outlines criteria to apply to choose the farm that's right for you. Recently, I've been working on updating the list of CSA farms because we have a lot of new ones this year (almost three dozen total!)
We are definitely starting to see some diversification in the kinds of CSAs in the area (now including options for grains and storage crops, meat, frozen fruits and vegetables, garlic, hops prepared meals, etc.) and the seasons that they're available (all four now). That's why it's puzzling to me that we have yet to see aggregated CSAs, where bread, meat, eggs, fruit, etc. are options with the produce. If you're interested in that, please email me.
This winter, which started slow, now seems to be tapering off. So farms are planting their summer seedlings indoors or in hoop houses. If you haven't already, now is the time to get signed up for the CSA farm share that fits you.
Things to consider include: growing practice of the farm (certified organic, biodynamic, conventional, etc.), size and frequency of the share, pickup location and day of the week, living wage for the farmer and your cost per week (which is a better comparison basis than the total cost).
Here's how one of the new CSAs, Hand Sown Farm, describes the CSA concept: "Community Supported Agriculture (CSA) or Farm Share Programs are designed to connect eaters to growers. Traditionally, members pay for a season's worth of produce up front and in return receive a box of whatever the farm has in season each week. Members share in the successes and failures of the farm over the course of the season and become intimately familiar with the cycles of farm life….The upfront support from members allows the farm to purchase needed materials for the season to get started early. The farmers are able to focus more on growing high quality produce throughout the season and less energy on marketing."
Sometimes people ask "Is local organic food elitist?" Certainly corporate agri-food would like us to think so, since transportation, commodity and other government subsidies that make processed food "cheap" might be threatened if we decided to pay a living wage to the farmer that we know, and who is treating his or her land and animals conscientiously.

One suggestion is to "Shift taxation away from labor and onto fossil fuels, thus reducing unemployment and pollution simultaneously. This would significantly raise the price of energy-intensive global food, and reduce the price of labor-intensive local food."
I love the CSA concept in part because, as researchers at UNC-Greensboro have shown, Small Farmers Create Jobs. In a project studying the results of small (average $10,000) grants to farmers "researchers…have shown that each grant created an average of 11 new jobs; each dollar spent resulted in $205 new dollars of economic activity in the state within one year; and, in total, the program awarded $3.6 million in three years to 367 farmers, created 4,100 new jobs, and had an economic impact of more than $733 million."
They say: "Why does it work? We believe it's because farmers know their business, know their communities and have a lot at stake. They already have equipment, buildings, land and expertise that they can re-purpose. And there's another benefit for rural economies: family farmers don't pick up and move overseas...If you want to have a big impact on the economies of rural communities, it's hard to find a better bet than a family farmer.
So next time your local elected representatives start to talk about tax breaks for an incoming multinational or big box store, suggest to them they may want to start looking closer to home. The real job creators live next door — and they are probably driving a John Deere." Amen.

NEW CSAs (since the 2011 update)

Bending Sickle Community Farm - Meat CSA based at the Tilian Farm Development Center
Bridgewater Barns - offers some meat, in addition to produce, and Ypsi Farmers Market pickup
Dyer Family Farm Garlic CSA - 42 varieties of garlic, plus garlic scapes and option for green garlic and honey
Hand Sown Farm - Near Manchester, piloting their "Farm Share Card" which gives members an additional 10 percent in produce for 2012
Honest Eats Farm - new produce CSA based at the Tilian Farm Development Center
Knox Hops - A CSA that includes nine varieties of hops, plus grains and herbs, for home brewers
Madaras Garden Studio - a neighborhood based "micro-CSA" in Scio Township
Meristem Farm - a new produce CSA based at the Tilian Farm Development Center
Stone Soup Staple Foods CSA - An Amish farmer collaborative growing grains (wheat, oats, rye, corn) and storage crops (potatoes, carrots, onions, popcorn). Contact Shana Milkie.
The Family Farm - a small biodynamic farm located in Belleville
Skinny Farm of Scio - NSA (Neighborhood Supported Agriculture) Farm in Scio Township, membership for those within 1.5 miles
Tilian Farm Development Center CSA - Sliding scale to allow investment in the Tilian Farm Development Center
Two Tracks Acres - new pork and chicken CSA

Produce CSAs

Brines Farm - year round, with focus on a stunning array of winter greens

Capella Farm - spring, summer and fall share options

Carpenter's Greenhouse and Organic Produce - certified organic, offer a punchcard and choose your own produce weekly

Community Farm of Ann Arbor - One of the first CSAs in the country, one of Ann Arbor's most beloved, one of the few biodynamic

Down on the Farm - an Amish collaborative CSA, they have options for meat and other Amish-made foods (like noodles, jam, baked goods). Phone: 517-542-2025 (Amos)

Frog Holler Organic Farm - Starting a new "market share" option this year, also offers weekly and bi-weekly shares, as well as an option for their famous salad mix

Green Things Farm - a year round CSA out of the Tilian Farm Development Center

Living Stones Farm - offers full and partial shares, pickup in Ann Arbor and Dearborn

Needle-Lane Farm - several options for share size and duration, and an option for a cut flower share

Our Family Farm - from Manchester, pickup in Ann Arbor

Portage River Farm - year round CSA near Pinckney, having a public open house March 17th, 2012

Pregitzer Farm Market - pickup at the Westside Market, has offered a "working share" in the past

Prochaska Cooperative Sharing Program - near Milan

Sunseed Farm - one of the first year-round CSAs, offering three 16-week CSA memberships for spring, summer and fall

Tantre Farm - certified organic, from Chelsea, one of the largest and most well-known CSAs in Ann Arbor

Two Creeks Organics - certified organic, offer "chicken CSA" in addition to their produce CSA

Valley Family Farm - in Milan

Zilke Vegetable Farm - planning a year-round season, offers "drive-through" pickup at the farm in Milan, as well as options for pickup in Ann Arbor and at Original Gravity Brewing Co. in Milan

Beyond Produce CSAs

Harvest Kitchen - prepared dishes made of produce and meat from local farms, vegetarian and "omnivore" options

Locavorious - locally grown, hand-processed frozen fruits and vegetables from December through March

Old Pine Farm - humanely raised, heritage breed pastured beef, pork, chicken, lamb, and sometimes buffalo and emu

Kim Bayer is a freelance writer and culinary researcher. Email her at kimbayer at gmail dot com.