Posted on
Wed, Feb 8, 2012 : 3:02 p.m.
Ann Arbor Civic Theatre announces its 3rd annual chili cook-off/beer tasting/silent auction fundraiser
By AnnArbor.com Staff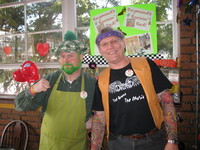 Photo courtesy of A2CT
Ann Arbor Civic Theatre
announces its 3rd annual Chili Cook-Off/Beer Tasting/Silent Auction, happening Sunday, Feb. 12 from noon-3 p.m., at The Corner Brewery at 720 Norris in Ypsilanti.
Tickets are $20, which includes 10 chili tastings, five beer samples, a silent auction, and a keepsake tasting glass. Chili-only tickets are $10, with $5 tickets for children ages 5-10. Kids under 5 attend free of charge. Tickets are available by calling A2CT at 734-971-2228 or at the door of The Corner Brewery. Additional information is available at the A2CT website at www.a2ct.org. "This is the third year of our annual cook-off, and it promises to be even bigger and better than before," said Civic fundraising chair Joyce Casale in a press release. "We have more chili contestants, more auction items, and lots of auction packages - including excellent Valentine's Day gifts. The event is so much fun, and an ideal way to spend a chilly February afternoon."
The contest will be judged by local celebrity judges Eve Aronoff of Frita Batidos (and former eve) fame; chef John Fischer from Gratzi; and Mary Bilyeu, columnist for AnnArbor.com's food section, blogger at FoodFloozy and former chili contestant.
Because the Chili Cook-off is two days before Valentine's Day, there will be special treats available for sweethearts and Valentine's Day-themed auction items. This year, those interested may log on to a2ct.org to get a glimpse of auction items before the event.
The Annual Chili Cook-off/Beer Tasting/Silent Auction is a fundraiser for Ann Arbor Civic Theatre, one of the oldest community theaters in the country. Civic provides opportunities for everyone in the community—regardless of experience or income—to participate in and experience live theater. Information on Ann Arbor Civic Theatre can be found at the A2CT website at www.a2ct.org.