Posted on
Thu, May 3, 2012 : 10:28 a.m.
Asparagus Tempura with Wasabi Dipping Sauce - recipe benefits from using local, in-season produce
By Peggy Lampman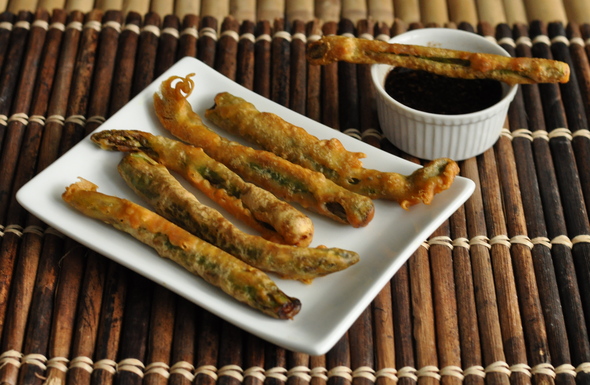 Peggy Lampman | Contributor

mean fighting machine!
It's asparagus season; when Michigan's brave warriors thrust their helmeted heads through the dirt, hoping a late frost doesn't blindside them. So my ammunition's at-the-ready - a battery of recipes that will maximize the bounty through the middle of June.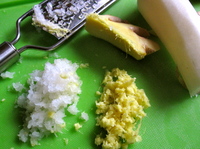 I can blanch, then
wrap them in proscuitto
; stuff them into
an omelet
; make a quickie
flatbread pizza
, purée them in a soup, make a
spring green risotto
, make
a bread pudding
,
drizzle with Caesar dressing
, use them in a
stir fry
or toss with morels and turn into
a gratin
… whew, I need to catch my breath.
Fresh asparagus is available year round but, for me, asparagus from Michigan soil has a brighter, fresher taste, and a crispier texture than off-shore imports. Purchasing asparagus from local farmers when the morning dew sweats their pointy little heads is a sweet treat, indeed.
According to Extension Horticulture Specialist, Douglas Sanders, Michigan ranks with California and Washington State in the top-three U.S. asparagus-producing states; most of the commercial acreage located on the west-central part of the state in Oceana County, near Lake Michigan.
Look for firm, fresh, spears with closed, compact tips and uniform diameter, to ensure all spears will cook in the same amount of time. Asparagus will keep fresh for a few days. Place in a vase, as you would a bouquet of flowers, add water to cover stem ends and refrigerate.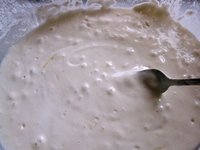 Rakishly thin asparagus, those first to hit the market stalls, may be eaten raw or need no more than a five to ten second blanch in well-salted water. Enjoy by themselves or, perhaps, served with a Caesar and Hollandaise dipping sauce. But today I present you with a recipe for their big brothers and sisters, the thicker, meatier asparagus that can handle a batter and sizzling oil.
There is an art behind making good tempura, which should be made just prior to eating. According to wikipedia, "Tempura batter is traditionally mixed in small batches using chopsticks for only a few seconds, leaving lumps in the mixture that, along with the cold batter temperature, result in the unique fluffy and crisp tempura structure when cooked."
Overmixing of the batter will result in activation of wheat gluten, which causes the flour mixture to become chewy and dough-like when fried. To keep my batter cold, I place the bowl in a larger bowl filled with cold water and ice cubes.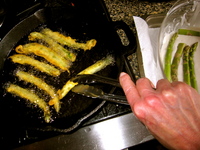 To minimize the spattering when making tempura, be sure the vegetables are dry before you coat them in batter. Fry only a few pieces at a time to prevent them from sticking together.
The award-winning documentary "Asparagus! Stalking the American Life", which New York Magazine called, "Oddly Brilliant," is a must-see for locavores and asparagus lovers. The documentary, set in Oceana County, offers a behind-the-red-carpet glimpse of the "Miss Asparagus" Pageant and interviews with farmers about their trials to compete with factory farms and off-shore industries. This recipe would be the perfect nosh for watching the film.
Yield: 16-22 thick asparagus stalks
Time: 45 minutes
Recipe for Wasabi Tempura Dipping Sauce
1 tablespoons rice wine vinegar
1/3 cup soy sauce
1 teaspoon wasabi
1/2 tablespoon ginger, grated
1 tablespoons daikon radish, grated
1 scallion, thinly sliced
Recipe for Tempura Asparagus* (recipe follows)
Directions for Wasabi Tempura Dipping Sauce
1. Whisk together vinegar, soy sauce, and wasabi.
2. Stir in ginger, daikon and scallions.
*Make prior to tempura. Recipe keeps several days, refrigerated.
Ingredients for Tempura Asparagus
1/2 cup tempura flour, white rice flour, or white wheat flour
1/2 cup corn starch
1/2 teaspoon baking soda
1/4 teaspoon baking powder
1 egg white, beaten
1/2 cups ice cold soda (seltzer) water
1 1/2 -2 pounds medium to thick width asparagus, tough ends trimmed and saved for soup stock, if desired
Neutral tasting high heat frying oil,such as peanut or grapeseed oil, as required.
Wasabi Tempura Dipping Sauce (recipe above)
Directions for Tempura Asparagus
1. In a large mixing bowl, combine flour, corn starch, baking soda, baking powder and salt. Gently stir in egg white and slowly stir in soda. The mixture should be slightly lumpy but easy to stir; it should be thick enough to coat the back of a spoon when lifted. Season generously with kosher salt to taste.*
2. In a large fry pan, place enough oil so it's 1- 1 1/2-inches deep. Heat until oil sizzles in a bit of tempura batter. Coat asparagus in batter, shaking off excess batter. In batches not over-crowding pan, fry until asparagus is golden-brown on all sides, about 4-5 minutes, turning with tongs. Drain on paper towels and serve with dipping sauce.