Posted on
Mon, Nov 30, 2009 : 10 a.m.
The practicalities of having chickens in your backyard
By Corinna Borden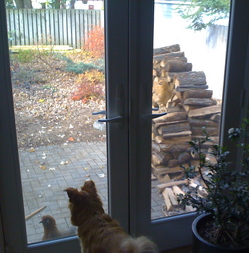 Corinna Borden | Contributor
In the depth of the Michigan winter I find myself drifting in front of a fire with a book, often a gardening book to research new ideas or to learn from mistakes of the summer. Last winter I read chicken books as we prepared for our girls. To that end, if you are a planner like me, I am going to share some practical elements of backyard chicken care for those of you wavering towards thinking it might be a good idea.

There are plenty of chicken books to choose from. My favorite one was a book I "borrowed" from my grandparents, now defaulted to a permanent loan, called Encyclopedia of Organic Gardening: A complete guide to gardening without DDT or other poisons or chemicals edited by J.I. Rodale, a pioneer in the organic movement. I wanted to write out the full title just to show how far we have come since the book was published in 1959. DDT was banned in 1973. The book was republished in the 90s with a different title.
What first piqued my interest in chickens was the assumption in that book that every gardener would have chickens to help with fertilization, aeration, and insect control.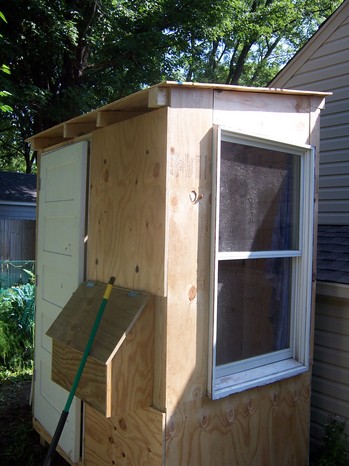 Corinna Borden | Contributor
Whatever book you choose, the first part is planning where in your garden the coop should go. According to the
Ann Arbor City Ordinance
, the coop needs to be 10 feet from your property line and 40 feet from any adjacent house. Before we purchased supplies for our coop we walked around to our abutting neighbors and cajoled them into giving us permission. Signatures in hand we went to the
Reuse Center
to purchase two framed windows and a framed door.

With borrowed saws and air guns we were able to cobble together a very serviceable structure. Most people tell you to have about 3 square feet per chicken, and I will be good and not mention that is a lot more space than what chickens have in factory farms (I am being so good, not mentioning that.) I had visions of raccoons creeping into the structure at night and dismembering our girls, so we have hooks that latch, a door with a key that locks it (those raccoons can be crafty), and a double layer of chicken wire at the top protecting our ventilation gaps.
Once the girls got big enough to dig in the earth, we built a small run for them to be outside. By this time, I had heard horror stories of a raccoon eating a chicken through chicken wire, so I completely enclosed (top, sides, bottom) a small area with a double layer of chicken wire and plastic garden netting. After the girls became large enough to scare away our cat (and I had stopped worrying so much about raccoons during the day) we opened their door and let them roam in the garden that we had cordoned off with deer fencing. Now every morning, I open their door, they run outside squacking and flying directly to a row of conifers. Once it is clear there are no hawks about, they start aerating and fertilizing our fallow garden, just like J.I. Rondale said they would.
The coop discussion can take a few months so it is a good thing you are starting it now. Depending on your time, finances, and building expertise you can purchase a coop instead of building one. There are pictures of coops available online, but most want you to purchase a book for detailed plans. One can find options of ready coops on Craig's List. A New Yorker article in September introduced me to the Eglu ~ the latest in chic homes for your girls out of the UK.
The cost of the Eglu aside, I do think their model works well in that they will send you four chickens to go with your purchase of a home. Poultry hatcheries require you purchase 25 chicks at a time, which doesn't work if you live in Ann Arbor. I was able to work around this by piggybacking my order with a friend who lives outside of town. That being said, there are classified ads of people selling their girls for one reason or another, a2citychickens.com is a good place to start. Also, since you are discussing this in front of the fire with six of your friends, perhaps you can share an order.
With the deep litter method, large containers of water and feed that only need to be filled every 4-5 days, and a well built coop, the chickens are a lot easier than our dog and cat. We left them alone for two days for the Thanksgiving holiday. The only noticeable difference when we returned was the duration of the first flight as they emerged squawking and trumpeting from the coop to welcome us home. It was nearly 15 feet long!
Drop me a line! Check out my website! Post a comment and start the conversation rolling!