Posted on
Thu, Jan 19, 2012 : 11:32 a.m.
Baked oatmeal with bananas and blueberries straddles the line between breakfast and dessert
By Jessica Webster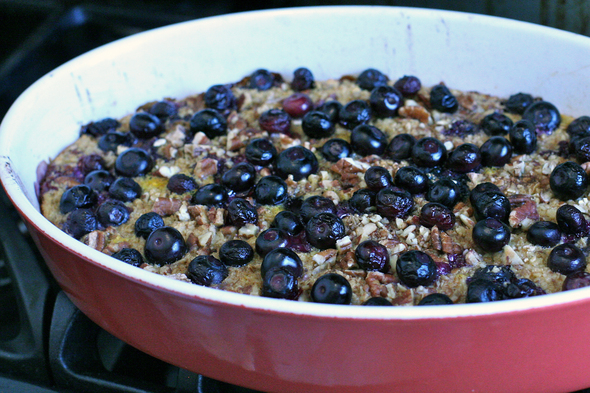 Jessica Webster | AnnArbor.com
I don't know about you, but the whole idea of breakfast gives me anxiety. Ever since they labeled it The Most Important Meal Of The Day, I always feel like I'm doing it wrong. And by doing it wrong I'm ruining not just my own day, but starting my son's day off with a horrible disadvantage.
Of course, there is no universally accepted "right" way of approaching breakfast. When I was traveling in Greece, I was served olives, feta and bread for my first meal of the day. In The Netherlands, a hard-boiled egg and toast with cheese (and sometimes chocolate sprinkles) is on the menu. The Japanese often start their day with rice, miso soup and some fish.
Personally, I love the Bill Cosby approach to breakfast: chocolate cake.
"Eggs! Eggs are in chocolate cake! And milk! Oh goody! And wheat! That's nutrition!"
Yes, in my less-responsible, pre-parenting days, you might have found me hunched over a slice of chocolate cake and a cold glass of milk at breakfast time, mumbling something like "Dad is great! Give us chocolate cake!"
But even today, some of my favorite morning meals exist somewhere near the intersection between breakfast and dessert. Chocolate chip pancakes, for example. Or french toast smothered in maple syrup.
This recipe, adapted from a post on the SkinnyTaste.com blog, also fits into that dessert/breakfast gray area. It's as tasty as a cobbler or a crumble, but without being decadent or terribly unhealthy.
A quick note on oats and gluten-free diets. While oats do not contain gluten, many of the oats available in grocery stores were processed in facilities that also process wheat, so there is cross-contamination. Look for oats labeled "gluten-free." Several local stores carry the Bob's Red Mill gluten-free quick oats.
Baked Oatmeal with Blueberries and Bananas adapted from a post on SkinnyTaste.com
Ingredients:
2 ripe bananas, sliced into 1/2-inch slices
1 1/2 cups blueberries
1 cup uncooked quick oats
1/4 cup chopped pecans
1/2 teaspoon baking powder
1 tablespoon plus 3 tablespoons honey
1/4 teaspoon plus 1/2 teaspoon cinnamon
pinch of salt
1 cup fat free or low-fat milk
1 egg
1 teaspoon vanilla extract
Directions:
Preheat the oven to 375 degrees. Lightly grease a 8x8 or 9x9-inch ceramic baking dish; set aside.
Arrange the banana slices in a single layer on the bottom of the ceramic dish. Sprinkle half of the blueberries over the bananas, 1/4 teaspoon of the cinnamon, 1 tablespoon of the honey and cover with foil. Bake 15 minutes, until the bananas get soft.
Meanwhile, in a medium bowl, combine the oats, half the nuts, baking powder, remaining 1/2 teaspoon of cinnamon, and salt; stir together. In a separate bowl, whisk together the remaining 3 tablespoons of honey, milk, egg, and vanilla extract.
Remove the bananas from the oven, then pour the oat mixture over the bananas and blueberries.
Pour the milk mixture over the oats, making sure to distribute the mixture as evenly as possible over the oats. Sprinkle the remaining blueberries and pecans over the top.
Bake for about 30 minutes, or until the top is golden brown and the oatmeal has set. Serve warm from the oven.
Servings: 6; Calories: 204.4; Fat: 4.4 g; Protein: 5.7 g; Carb: 38.3 g; Fiber: 4.0 g; Sugar: 22.9 g; Sodium: 76.8 mg (without salt)
Jessica Webster leads the Food & Grocery section for AnnArbor.com. You can reach her at JessicaWebster@AnnArbor.com.