Posted on
Mon, May 7, 2012 : 4:47 a.m.
Baked Salmon with Toasted Walnuts and Mixed Green Salad - vinaigrette does double duty
By Peggy Lampman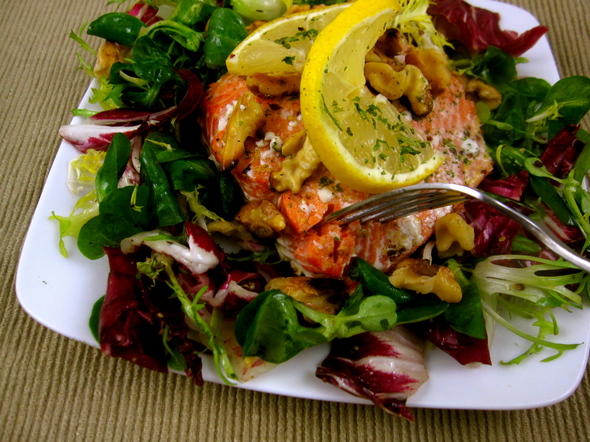 Peggy Lampman | Contributor

mean fighting machine!

Here's another healthy and easy-to-prepare recipe. The vinaigrette works overtime serving as a marinade for the salmon and a dressing for the greens.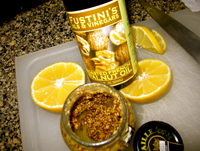 I choose the heady flavor of
Fustini Walnut Oil
, available in Kerrytown shops, and combined it with my favorite mustard for making vinaigrettes: Maille course or smooth Dijon. A bit of shallot macerated in the acidity of a good red wine vinegar was all the dressing required.
I prefer the greens lightly dressed; the mache salad green mix I purchased from Hiller's was piquant and could hold its own.
Yield: 3-4 servings
Time: 30 minutes
Ingredients
3 tablespoons walnut oil
1 tablespoon lemon juice or red wine vinegar
1/2 teaspoon finely minced shallot, optional
1 teaspoon course ground or smooth Dijon mustard
1 1/2 pounds center cut salmon
4-5 cups mache greens or mache green mix
Directions
1. Preheat oven to 400 degrees.
2. Whisk together oil, lemon juice or vinegar, shallot (if using) and mustard; season to taste with kosher salt and freshly ground pepper.
3. Prepare a sheet pan with lightly oiled foil. Place salmon on foil and brush with 2 tablespoons of the dressing. Let sit at room temperature 15 minutes, then roast 10-15 minutes on center rack of oven until cooked to desired level of doneness.
4. Toss greens with remaining dressing and season with kosher salt and freshly ground pepper, if desired. Divide and plate greens and serve salmon atop greens, seasoning salmon with additional salt, if desired.